Nyyti News 2/2023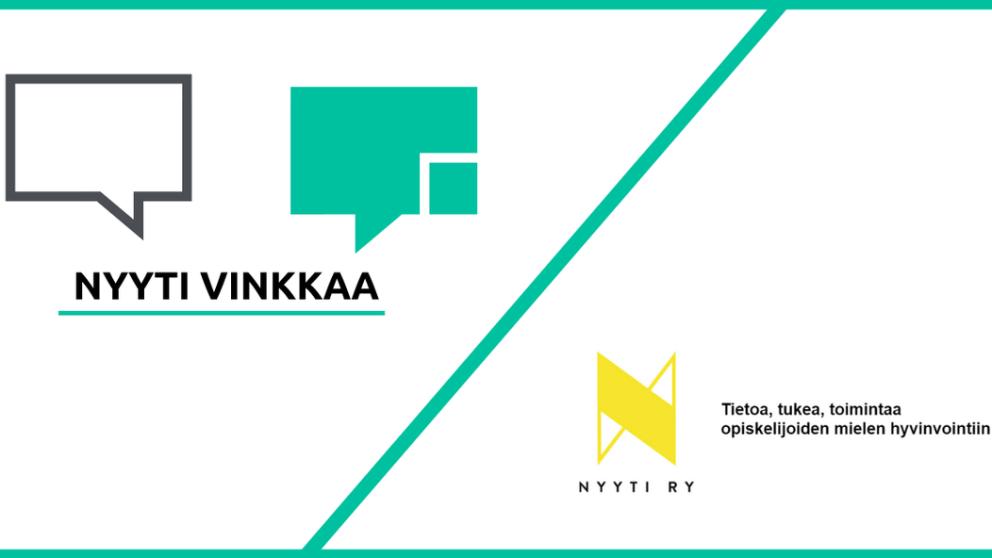 The application for NyytiCoaching has just started. Various trainings and webinars are also available. You should also familiarise yourself with "the Recommendations for higher education institutions to support returning to studies", which are now also available in Finnish and Swedish.
You can find the most up-to-date information about our activities on Nyyti's pages on Instagram, Facebook, LinkedIn and Linktr.ee, as well as on Twitter and Tuudo, and of course on Nyyti's website.
Nyyti´s Chat
Nyytin Chats have started and open group chats for all students who are 18 years or older are organised on Tuesdays.
The main goal of Nyyti's chats is peer support from students to students.
In February Nyytin Chat we will focus on how to find your own place in working life. the chat will be organised on Tuesday 13 January from 6 to 8 pm. By clicking the chat title you get more information about the chat (opens in a new window).
More information about our spring chats on our website.
Would you like to receive coaching to find your own path? Apply for NyytiCoaching!
Would you like to receive coaching to find your own path and potential? Would you like to get support to identifying your working life expectations and career goals?
With NyytiCoaching, this is possible!
The coaching process includes three meetings, which are conducted online. The coaches are certified professionals. Coaching is aimed at students in the final stages of their studies at universities and universities of applied sciences, as well as doctoral students throughout Finland. Coaching is free of charge for students.
The call for applications for this spring NyytiCoaching programme is now open.
Apply here! (The link opens in a new window.)
Support, offered in Finnish
Loneliness in the mind -one -to-one chat
Loneliness in the mind  chat helps university students find the most suitable way to get help for loneliness that weighs on the mind.
Webinars held in Finnish
Did you like the article?