The Day of Well-Being is on 30.3.2022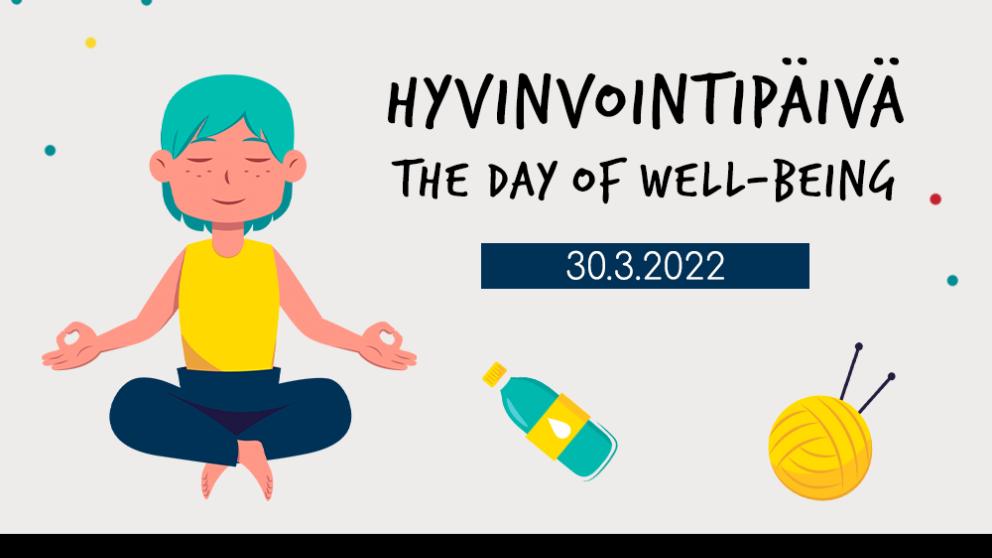 The University of Vaasa and The Student Union of the University of Vaasa's (VYY) Day of Well-Being will be held on the 30th of March.
During the Day of Well-Being, wellness-related activities will be organized for students and staff. This year the theme of the Day of Well-Being is communiality.   
There will be wellness-related activities during the day. The day's program includes as well as different exercise opportunities to give you a nice rhythm to your day! 
Please note that some activities require you to register in advance! The registration is binding. 
The Day of Well-Being schedule
8.15-9.00 Morning Yoga @Wärtsilä Hall
Come and start the Day of Well-Being with morning yoga! All you need is comfortable clothes. The director is Kerli Granholm.
9.00-10.00 Breakfast Event @restaurant Erkki, Fabriikki (organized by the Mikä neuvoksi project)
Advance registration no later than March 23.
10.00-11.00 Encounters as welfare enhancers lecture, Nyyti ry @Levon auditorium and Zoom 
The lecture in the Zoom can be watched from your own device or on campus in the Levón auditorium. Zoom link will be published during the event week. After the lecture, University's Big Heart Award will be presented to the winner. Nominations are open until the 16th of March! Read more about the Big Heart award from University's website and nominate someone!
11.00-13.00 Mini fair @Mathildan aula
At the mini fair will be FSHS, University Chaplain Timo Kaukomaa, University's Sports Coordinator, Study Psychologist, Study Counsellors, Student Union's Harassment Contact Person, University Equality Representative, Juvenes, Mikä neuvoksi -project, University's Digi mentors, University's Occupational Safety and Health Representative, Change Support Group and Hack the Happiness hackathon.  
13.00-16.00 Retro games @Fabriikki 2nd floor, the lobby of the F249-251 classrooms  
17.00-18.00 Climbing @Vaasa UP (Rantakatu 2)
Register in advance by sending an email to sports(at)uwasa.fi by 29.3.2022 at 12 PM. A maximum of 6 people can participate in the climbing class.  
All-day
10:00-20:00 Wasa Sports Club's group exercise classes
Wasa Sports Club's group exercise classes are free to university personnel and students. 
Don't forget to download the Break Pro break exercise program to your computer! 
The organizers of the Day of Well-Being take preventing the epidemic seriously and with responsibility. We follow officials' guidelines when organizing the event. Please remember to take care of your own hand hygiene and wear a mask. Please don't attend the event if you feel sick or have any kind of symptoms. 
Welcome!
The Day of well-being working group
Did you like the article?