The world needs more skilled blockchain experts and that is why the Powered by blockchain project is very topical and important. The project consortium will develop six new training modules concentrating in blockchain.

The project is a joint operational model including a network, a platform and a set of learning contents.
For whom the education is offered:
1. stage: For students: Vaihtoehtoinen/Sivuainekoulutus.
2. stage: For employed or un-employed – not students.
3. stage: education for industry needs (energy sector)
4. Event: 1 Blockchain seminar in Vaasa, energy and clean tech sector.  www.univaasa.fi/fi/sites/blockchain
Project name: Tehoa lohkoketjuista, Powered by Blockchain
Project time: 01.05.2020 – 31.04.2022
Funder: European Social Fund (ESR)
Received external funding: 204 000Eur
Project budget: 950 000 Eur (total), UniVaasa part 255 000Eur.
Own funding: 50 000Eur
Contact persons at University of Vaasa: Teemu Närvä, Levón institute and Heidi Kuusniemi Digital Economy research platform
Project partners:
1.     Oulu University (project leader)
prof. Petri Pulli, university lector Pasi Karppinen, prof. Veikko Seppänen, researcher Petri Ahokangas, director Eva Raudasoja, education planner Laura Pihtsalmi
2.     University of Vaasa
Digital Economy director prof. Heidi Kuusniemi, Levón institute education leader Teemu Närvä.
3.     University of Lapland
prof. Janne Kaisto
4.     Kajaani UAS
Project leader Taneli Rantaharju, rector Matti Sarén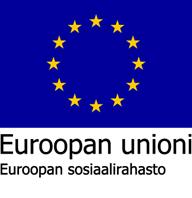 Organisation coordinating the project