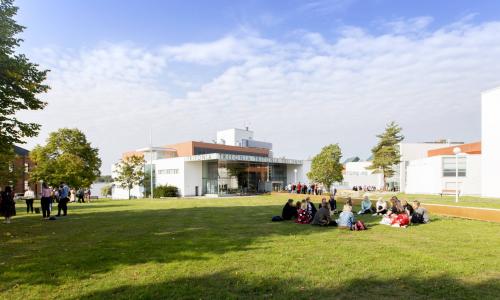 Safety first during autumn 2020
Safety is our top priority in all our operations during autumn. We want to protect the health of our students and personnel and minimize the amount of corona infections. During 1.11.–31.12. teaching continues mainly in distance learning mode and campus activities are restricted.

Please read our corona instructions before visiting - and stay safe!
Warmly welcome!
Our beautiful maritime campus is located in Palosaari, a short walk away from the Vaasa city centre. We study and work in a unique environment. The same area houses the historic, old red-bricked cotton factory and fresh, bright new buildings. 
The oldest part, Fabriikki, was built when the northernmost cotton mill was founded here in 1856. The laboratory building Technobothnia, the administrative building Konttori and the picturesque wooden residences of the old cotton mill workers "Puuvillatalot" all breathe history. The new buildings, Tervahovi and Luotsi, designed by Käpy and Simo Paavilainen were completed in 1994. The new constructions also include the Tritonia library and Domus Bothnica, the student union house.
Getting to the campus
The visiting address of the University of Vaasa is Wolffintie 34, 65200 Vaasa.
Walking: Walking from the city centre takes approximately 15 minutes.
By bus: To arrive by bus, take the bus no. 1, 3 or 14 (the campus line). 
By car: For more information and the parking map, please see below.
The campus has an open wireless network UwasaOpen, which does not require the user to sign in, and the Eduroam network which can be used with the username and password of the visitor's home organisation.
Parking on campus
If you arrive by car and park in the university car park, you need a temporary parking permit. You can get a permit from the information desk in the lobby of the main building Tervahovi.
Please take a look at the parking map of the campus area. The parking places for students and guests are indicated in yellow and the places for staff in red.
Staff and students can get a permanent parking permit. Please note that parking without a permit may incur a fine.
Moving on campus
All university buildings are located close to one another on campus. You can easily find them by following the signs placed in the area. 
The information desks are located in the lobby of Tervahovi, which is the main building, and the lobby of Fabriikki.
Summertime opening hours 21.6.-1.8.2021: 
Tervahovi     9 a.m. – 3 p.m. on weekdays, closed on Saturdays
Luotsi          closed
Fabriikki      closed
Konttori       closed
Puuvillatalo closed