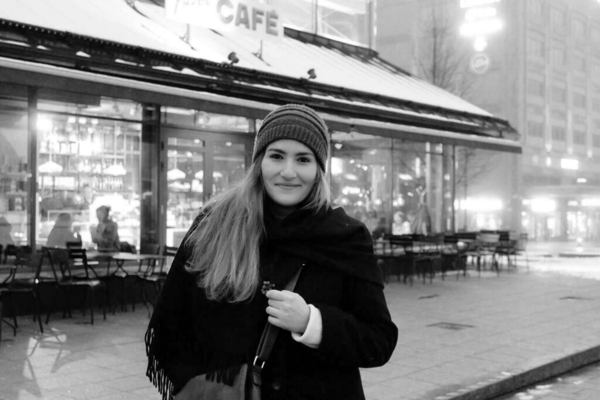 After spending a semester in Finland as an Erasmus+ student, I'd decided that after finishing my Bachelor's Degree, I would like to return for my graduate studies. I've searched a lot in order to find the most appropriate degree for me and University of Vaasa was one of the universities that offered such a programme that gives you the chance to study all three fields, International Management, International Marketing and International Human Resource Management. A friend of mine was studying already at the university at a different programme but she managed to get information for the one I was interested in, which helped me to ensure the quality of the programme. In addition, the programme is EPAS accredited, something that made me even more interested in it.
As I mentioned before, I chose MIB because of its diversity and internationality. Now that I have finished the whole first year of the programme, I can say that the courses turned out to be as interesting and insightful as I was expecting, broadening my knowledge on many topics regarding international management and marketing. Apart from that, I had the chance to come across with topics such as leadership and IHRM, that not only gave me interesting insights at the topics but also helped me develop a different opinion about leadership and the way it can be identified. Furthermore, university's personnel were more than helpful and willing to address any of your questions any time.
What I liked the most about studying in the University of Vaasa is the internationality you experience from day one. I had the chance to make friends from all over the world and learn from them about their culture and their way of thinking. Apart from that, being a student at UVA gives you the opportunity to have access to a broad scientific library that can help you through your studies but also enlighten you to many other topics that you might find interesting. The cozy feeling of the library was definitely one of the biggest hits of UVA and one of the main factors that helped me finish all the courses in one year instead of two. Lastly, one very significant advantage of UVA is that it collaborates with all the other universities in the city and they provide you with courses you can find interesting, even if they are completely irrelevant to your studies. Such a course was "Swedish" that I participated in at Hanken School of Economics.
Even though Vaasa is not a huge city, compared to other European cities, it gives you the chance to explore different ways of entertainment. There are a few museums you can visit if you are into such things, there are plenty of pubs you can hang out with your friends and enjoy a Finnish beer, restaurants with plenty of different kinds of cuisines for any taste, many gyms around the city in case you are interested in keeping up your shape etc. The best thing about living in Vaasa is that you can find whatever you need at a very short distance, as almost everything is located to the city center. In addition, since ice hockey is the national sport of Finland, you have the opportunity to enjoy many games during the season at the ice hockey stadium that is located not so far from the center. Generally, Finland is the place for those that enjoy going out for hiking, live next to nature or even for more adventurous people go skiing or snowboarding.
I haven't been part of any student organization while I've been studying in Vaasa because I liked more spending time with my friends during my free time and explore different sceneries in Vaasa. Either you are fan of clubs, dancing and hanging out with your buddies while having a beer or you enjoy go hiking, Vaasa is the place for you. There are also many activities organized by the University, which gives you the chance to meet new people and socialize even more, explore places close to Vaasa – like Kvarken Archipelago- that are unique and have one more chance to enjoy a beer! What I really enjoyed doing during my free time, was either having a barbeque with my friends, surrounded by the beautiful Finnish nature or chasing the Northern Lights.