Exchange Experience in Vaasa
Before and upon arrival
Before your exchange
We make sure that you have a chance to get to know your fellow students even before you get to Vaasa through virtual Learning Agreement Session that will also help you to plan your studies at the University of Vaasa. You will also be assigned a tutor before your arrival to Vaasa. The tutor is a student from University of Vaasa who will be able to help you with the practical matters here in Finland. More information about the tutoring can be found below.
Arrival Days
University of Vaasa offers pick up service for international students arriving on official arrival days. You will be greeted at the airport by the tutors, there will be transport to your apartment and the tutors will show you around the apartment. Do keep in mind that this service can only be guaranteed during official arrival days and reasonable hours. 
Orientation Days
In order to guarantee a good start to your stay in Vaasa and that you get all the necessary information, University of Vaasa organizes Orientation Days in the beginning of the semester. The exact schedule and programme will be sent to the students closer to the date.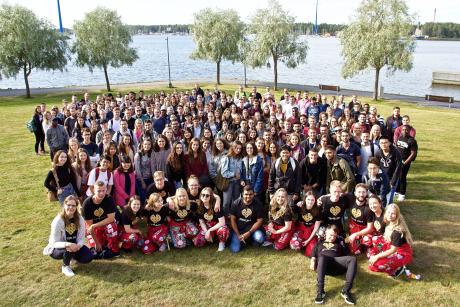 I am surprised by all the things tutors and mobility service did for us! They made my arrival, meeting new people and other things so much easier.
- Exchange Student, Spring 2020
International Tutoring
Life in a new country can be challenging and ordinary chores like going to the supermarket are not as easy as in the home country. Do not worry! In Vaasa you will be not be left alone with these challenges. All the international students are assigned a tutor to help them with practical matters regarding the life in Finland. These tutors will contact you before arrival and also organize a few events for you throughout the semester. Though the tutors have many talents, do keep in mind that they do not give study guidance or arrange your residence permit for you. You can contact Mobility Services regarding those matters.
"The tutors have been helping me quite a lot adapting and understanding the way Finns live. It has been quite fun to experience all those things. And I couldn't forget about the activities they organize to always bring us together but the most important part for me is that they helped me in a way that make me feel like this place is home."
- Gabriel Arena Todelo, exchange student spring 2020
Lapland Trip
Every semester the University of Vaasa organises a trip to the Finnish Lapland for the international students at the University of Vaasa. These trips are always full of memorable experiences. The program usually includes among other things visit to the husky and reindeer farms, ice swimming and visit to the Santa Claus Village. To avoid unnecessary absences from classes and lecture, the University Staff is informed about the trip and they try to take this into consideration when making the schedules. Who wouldn't want to participate?
Note: due to the pandemic, the trip was cancelled for spring 2020, academic year 2020-2021 and academic year 2021-2022