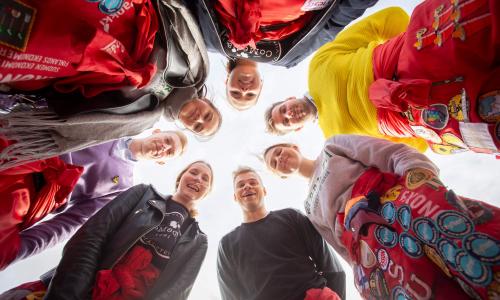 Versatile teaching of languages and communications
The language centre Linginno operates as an affiliated institution and offers students of all disciplines language and communication studies that meet the requirements of their degree and working life.
Furthermore, it develops language teaching, teaching materials and multiform pedagogy and promotes research in language teaching and learning as well as working life communication.
Degree education and language studies
The language centre plans language studies and is responsible for teaching the compulsory mother tongue, second domestic language and foreign language courses for students of all degree programmes at the University of Vaasa. The language centre provides language teaching in Finnish, Swedish, English, German, Russian, French, and Spanish.
Projects and research
The language teaching provided by the language centre is research-based. The research conducted by the teaching staff of the centre focuses on language teaching and learning as well as communication in working life.
The language centre:
organises the national Language Centre Days 18–19.5.2022
participates in the Talent Coastline Employment project organised by the city of Vaasa (2020–2022)
coordinates the Kvarkentandem project by the University of Vaasa and Umeå University (2020–2022)
participates in the KIVAKO project coordinated by Haaga-Helia (2018–2021)
participates in the DIGIJOUJOU project coordinated by Aalto University (2017–2020)
is one of the editors in Terminology magazine Terminology as a Societal Resource (2020)
Cooperation and networks
The language centre cooperates with similar organisations regionally, nationally and internationally.
The language centre is:
a member of the language teaching cooperation group of the Vaasa Higher Education Consortium, Linguavaasa
a member of the Finnish University Language Centre Network (FINELC) FINELC
a member of CercleS, the European confederation for university language centres and similar institutions