The students of finance at the University of Vaasa succeeded in the CFA competition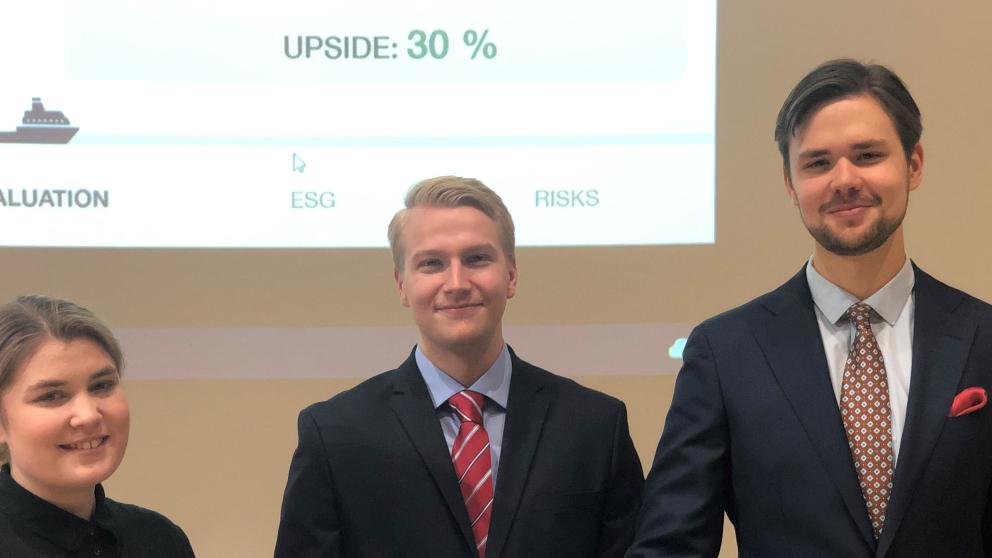 The team of the University of Vaasa got to the local final of the 2021-22 CFA Institute Research Challenge. The CFA Institute Research Challenge gathers students, investment industry professionals, publicly traded companies, and corporate sponsors together locally, regionally, and globally for an annual competition.
The team of finalists consists of students from the Master's Degree Programme in Finance at the University of Vaasa - Vilma Honkaniemi, Elias Keskinen, Aino Rahikainen and Joonas Valli. 
The team members presented their analysis and buy/sell/hold recommendation on Wärtsilä Oyj to a panel of distinguished judges from the investment community, including Jutta Rahikainen (SEB), Vesa Syrjäläinen CFA (Varma) and Miikka Hautamäki, CFA (AIM Capital). 
The presentation was the culmination of months of research, interviews with company management, competitors, and clients, as well as presentation training. All participating teams received hands-on mentoring and intensive training in financial analysis and professional ethics delivered through the CFA Institute network, their faculty advisor, and a dedicated industry mentor.
- CFA Institute Research Challenge was overall an awesome experience with great people. Definitely learned a lot about valuation and equity research. I would recommend it to anyone interested in finance who is looking for a challenging and fun way to learn practical skills that are applicable to their future career, says Elias Keskinen. 
- Participating in the CFA Institute Research Challenge is an incredible opportunity to take your knowledge and equity research to the next level. Additionally, it's an interesting anecdote to bring up during job interviews to showcase your knowledge in financial analysis and valuation, adds Joonas Valli.
The winners of the local final competition this year is the team from Lappeenranta University of Technology that will advance to the EMEA regional semifinals.
Did you like the article?