Movie nights for students in December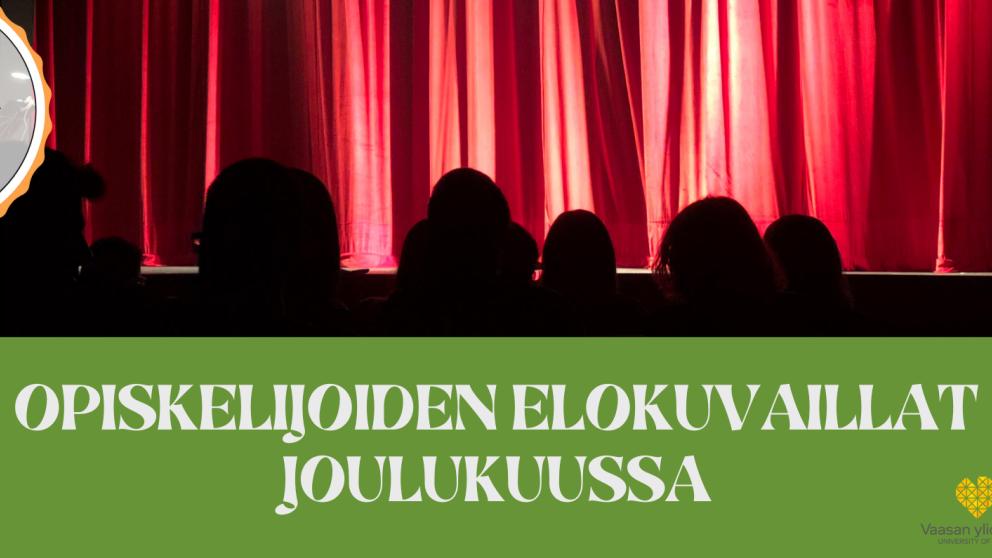 Mikä neuvoksi offers students of the University of Vaasa three movie nights at the Kino Ritz (Kirkkopuistikko 22).
The films are free for students who have signed in via Webropol form. The first 100 participants can be included. The doors open half-hour before showtime, so don't be late!
The University of Vaasa and The Student Union of The University of Vaasa take preventing the epidemic seriously and with responsibility and follow officials' guidelines when organizing events. Please remember to take care of your hand hygiene and don't attend the event, if you feel sick or have any kind of symptoms.
Ghostbusters: Afterlife
On Tuesday, December 7 it's time for Ghostbusters. Ghostbusters: Afterlife is a 2021 American supernatural comedy film directed by Jason Reitman, who co-wrote the screenplay with Gil Kenan. In Ghostbusters: Afterlife, when a single mom and her two kids arrive in a small town, they begin to discover their connection to the original ghostbusters and the secret legacy their grandfather left behind.
More info about the movie and Webropol signing in form
House of Gucci
Tuesday, December 14, we present an incredibly true-story-inspired biographical film House of Gucci (2021), based on Sara Gay Forden's book The House of Gucci: a Sensational Story of Murder, Madness, Glamor, and Greed. The film tells the story of Maurizio Gucci, a member of the Gucci fashion family, and his wife Patrizia Reggiani. The film is directed by Ridley Scott, and its main characters are Lady Gaga and Adam Driver.
More info about the movie and Webropol signing in form
West Side Story
Thursday, December 16 the musical film West Side Story will be presented. West Side Story is an adaptation of the 1957 musical, that explores forbidden love and the rivalry between the Jets and the Sharks, two teenage street gangs of different ethnic backgrounds. The film is directed by Oscar® winner Steven Spielberg and is based on a script by Pulitzer and Tony® winner Tony Kushner. The film is based on the Broadway musical of the same name, which in turn is inspired by William Shakespeare's play Romeo and Juliet.
More info about the movie and Webropol signing in form
Did you like the article?