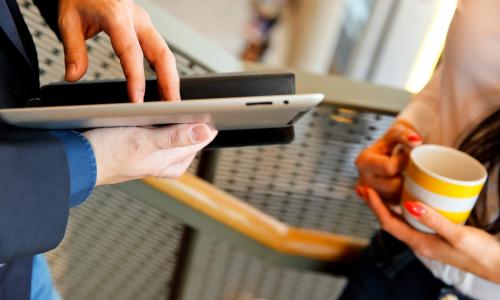 Companies and organisations
Do you need an expert for your project?
Our research is often done in cooperation with companies, communities and other universities as well as research institutions. The forms of cooperation can be, for example, commonly funded research projects or research which has been commissioned. Research cooperation in the university is done in the academic schools, the research platforms, the research groups, the affiliated institutions as well as by individual researchers.
If you are interested in cooperating on research, you can either contact the school, platform or expert in question directly or through our Liaison Director Harry Linnarinne, tel. +358 29 449 8705.
Read more about our research co-operation, research infrastructures and innovation and commercialisation activities.
A thesis subject, internship, or project work for students?
We educate experts for the society of today and tomorrow. Our students are skilled, enthusiastic and ready to take on challenges.
If you want to offer an internship or a job to a student or if your company has a good topic for a master's thesis, you can submit an advertisement using the following forms: Advertise an internship – Advertise a job – Advertise a thesis subject. The advertisements will be published on the Career Services' website as soon as possible. This service is free of charge.
Further information: Career Services / Specialist Sunna Vainiomaa tel. +358 29 449 8173 / Amanuensis Katri Pöntinen tel. +358 29 449 8443.
Need for continuing education?
The range of our continuing education focuses on manager and supervisor training, organisation-specific training and development processes, the development of entrepreneurship and SMEs, and special programmes developed for various expert groups.
In addition to short- and long-term academic contintuing education, we provide versatile opportunities for lifelong learning and self-development.
A beautiful place for a meeting
We offer modern facilities that are perfect for conferences, training and entertainment at Palosaari, near Vaasa city centre. The campus area combines a seaside park, modern architecture and an old industrial milieu in a unique way. We have three auditoria of different size for 100 to 500 persons. Other spaces vary from classrooms perfect for group work to lecture halls for up to 120 persons. High-quality restaurant services with experienced staff is available on the campus. Take a look at our facilities and give us a call: tel. +358 29 449 8101 / tilat(a)univaasa.fi
Kiinnostaako kumppanuus?
Olemme solmineet vuodesta 2013 kumppanuussopimuksia erilaisten yhteistyötahojen kanssa. Olemme sitoutuneet vuosittaisiin toimenpiteisiin, ja yhteistyötä voidaan syventää tarpeiden mukaan. Kumppanuuksien avulla välitämme omaa osaamistamme kumppaneillemme – ja päinvastoin. Ota yhteyttä, niin katsotaan millaista yhteistyötä voisimme tehdä yhdessä:
Antti Sinisalo / erityisasiantuntija, innovaatiotoiminta, yliopistopalvelut, Innovations and Ecosystems
puh. 029 449 8563 / antti.sinisalo(a)univaasa.fi

Philipp Holtkamp / erityisasiantuntija, innovaatiotoiminta, yliopistopalvelut, Innovations and Ecosystems
puh. 029 449 8585 / philipp.holtkamp(a)univaasa.fi