How to tackle climate change? New event at the University of Vaasa combines nature films and ...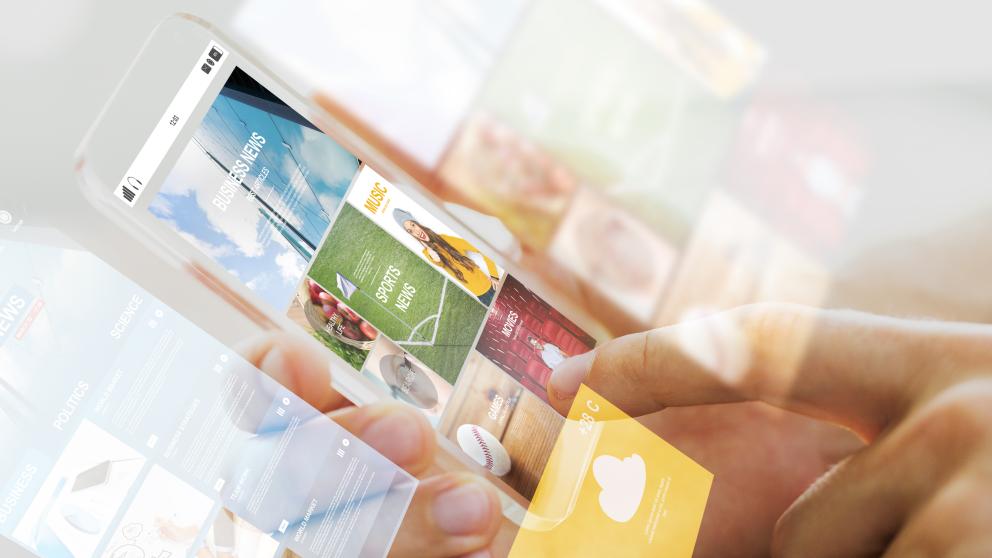 Climate change poses an immediate and long-term threat to people and our planet. What can we do about it? All the students of the University of Vaasa are welcome to join a brand new, three day event in Vaasa that combines nature films and science: Vaasa Climate Change Conference & Networking Forum, 26th-28th of September.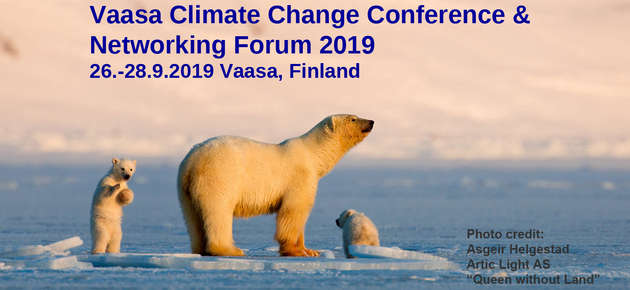 The aim of this event is to develop effective solutions to halt climate change and promote the circular economy and spread awareness of these issues.
The event seeks to inspire broader audiences to pursue local solutions to fight against climate change. Researchers, students, business representatives, film-makers, politicians and decision-makers as well as organisations, citizens and families are welcome to attend this free event.
Please register for the event here.
The scientific conference (the first and the second day of the event) will be organised at the University of Vaasa (Auditorium Wolff, Tervahovi building). The programme consists of five sessions in which documentary films, scientific lectures and panel discussions are combined in a unique format. The third day is targeted for broader audiences – families and citizens interested in climate change – and features film screenings and artistic performances hosted at the Culture House Fanny and Vaasa Main Library Drama Hall.
"Climate change is happening now. We are witnessing the evidence of its consequences across the globe. In our speeches and panel discussions, we will highlight the key themes of sustainable development from the perspectives of science, business and society. The documentary films will visually complement our lectures and talks," says Suvi Karirinne, Director of the University of Vaasa VEBIC research platform.
Vaasa Climate Conference & Networking Forum 26.-28.9.2019

TORSTAI / TORSDAG /THURSDAY 26.09.2019

Time
Event
Venue
9.00 - 9.20
Warm-up with film trailers: Tomorrow's Climate is Today's Challenge DEFRA, UK 2006,Grassroots by Frank Oly, Closing the Loop by Wayne Visser, Indira Kartallozi
Vaasa University (Wolff Auditorium & interactive space)
Wolffintie 34 65101 Vaasa, Finland
9.20 - 9.30
Welcome
9.30 - 11.30
Session 1: "Circular economy in action"
Moderator: Suvi Karirinne /Director of VEBIC (Vaasa Energy Business Innovation Centre)/ University of Vaasa/Finland
Keynote speakers:
Hannamaija Fontelland, Pekka Kariniemi / Biolan OySpeakers: Stella Schaller, Harri Luomala, Pekka Peura / University of Vaasa; Juha Ripatti / Westenergy.
Panel discussion
moderated by Suvi Karirinne and Karita Luokkanen-Rabetino / University of Vaasa.
13.00 - 13.10
Film excerpt: The Big Picture by Paul Reddish
13.10 - 15.30
Session 2: "The role of space-based data in fighting climate change"

13.10 -13.30 opening (H. Kuusniemi, University of Vaasa), 20 min, What data does space-based technology offer (SatNav, SatComm, Earth Observation)?

13.30 - 14.30 keynote lecture (A.N. Arslan, Finnish Meteorological Institute), 60 min, EU Copernicus Programme: Opportunities on Monitoring and Assessing Impacts of Climate Change

14.30 - 14.50 Team KvarkenSat, 20 min, Mission KvarkenSat and the Kvarken Space Center – Contributions to also Climate Change Monitoring

14.50 -15.30 Panel and Q&A: Benefits of Space in Fighting Climate Change – from citizens to businesses, 30 min
20.00 -23.00
VCCC&NF 2019 - OPENING PARTY
Culture House Fanny
Kirkkopuistikko 34, 65100 Vaasa, Finland
PERJANTAI/FREDAG/FRIDAY 27.09.2019
9.00 - 9.15
Film excerpt: Women of Dorfak by Mohammad Nami
Vaasa University (Wolff Auditorium & interactive space)
Wolffintie 34 65101 Vaasa, Finland
9.15 -11.30
Session3: "How are women accelerating the sustainable energy transition?" NEEN : NORDIC ENERGY EQUALITY NETWORK:
- Suvi Karirinne (moderator), Director of VEBIC (Vaasa Energy Business Innovation Centre), Finland
- Viktoria Raft Senior Consultant at Reformklubben, Founder & Boardmember of Kraftkvinnorna, Sweden
- Karina Barnholt Klepper, Chair of Nordic Energy Equality Network (NEEN), Senior Adviser at Nordic Energy Research, Norway
- Pirjo Jantunen Business Development Manager, Smart Buildings at Helen, Finland
- Marie Münster,Professor, Technical University of Denmark (DTU), Denmark
- Ragnheidur Elin Arnadottir, Former Minister of Energy of Iceland, Iceland
13.30 - 15.00
Session 4: "Climate change in Arid and semi-Arid regions"
Key Speakers: Nahdir Al Ansari / Luleå University of Technology
-Qais Al-Madhlom: "Climate Change and its Effect on Energy Consumption: How to overcome the problem Using Underground Thermal Energy Storage System."
15.00 - 19.00
Session 5: "Climate change - Local solutions that change the world - Our Exeriences in fighting Climate change" Moderator: Elina Viitasaari / Center for Global Nonkilling
15.00-15.20 Film: "Grassroots" by Frank Oly. Australia 2018, (20min)
15.20-15.35 Speaker: Göran Östberg/VASEK
15.35-15.50 Speaker: Mika Vanhanen / ENO
15.50-15.55 Film: Waterkeepers Iraq, Nabil Musa
15.55-16.10 Speaker: Nabil Musa / Waterkeepers Iraq
16.10-16.40 Speaker: Wayne Wisser / Kaleidoscope Futures Ltd
16.40-16.55 Speaker: Karoliina Lummaa / BIOS-tutkimusyksikkö
16.55-17.10 Speaker: Jukka Kajan Joukon Voima
17.10-17.25 Asseri Laitinen / VAMK
17.25-18.25 Panel Discussion
18.20 -19.00 Film: The fight for the Arctic by Andreas Ewels, ZDF (26min)

LAUANTAI/LÖRDAG/SATURDAY 28.09.2019

11.00 -12.00
PUPPET THEATRE by Pikku Aasin nukketeatteri, Cosimo Galiano
Culture House Fanny
Kirkkopuistikko 34, 65100 Vaasa, Finland
13.00 - 15.00
GREEN FILM FESTIVALS ORGANIZERS SUMMIT (open for general audience)
HOST: VAASA CITY CULTURE AND LIBRARY SERVICES, VAASA WILDLIFE FESTIVAL Sanna Bondas, Ilias Missyris

Panel Discussion: What is the role of Arts and Culture today in popularizing scientific information about existing solutions to tackle climate change?

Moderator: Anastasiya Kharchenko
Festivals and delegades invited:
NATOURALE FILM FESTIVAL, WIESBADEN, GERMANY Andrea Eva Ewels.
ATHENS INTERNATIONAL DIGITAL FILM FESTIVAL, ATHENS, GREECE, Christos Karakasis, Vasiliki Kapa,
CHINA GREEN FILM WEEK, BEIJING, SHANGHAI, LHASA, CHINA, Afang Zhu, Jiaqi Cheng.
GREEN SCREEN FESTIVAL, ECKERNFÖRDE, GERMANY Michael van Bürk.
WILDLIFE CONSERVATION FILM FESTIVAL, NEW YORK, LOS ANGELES, USA Christopher J. Gervais
VAASA CITY LIBRARY-DRAMA HALL, Kirjastonkatu 13, 65100 Vaasa
15.00 - 19.00
Interactive public screenings with filmmakers present. Networking session.
15.00 -16.00 "The Sea that Dissappeared" Ari Häkkinen
16.00-17.00 "Queen without land" Asgeir Helgestad
17.00-19.00 "Closing the Loop" Wayne Visser, Indira Kartallozi
20.00 -21.00

WORLD PREMIER!


Film Centre Botnia presents: A film about Eero Murtomäki by PrettyGood Productions Tom Miller, USA
Both Eero Murtomäki and Tom Miller will be present at the screening!
Culture House Fanny
Kirkkopuistikko 34, 65100 Vaasa, Finland
21.00 -22.30
MUSIC CONCERT: Rock for Climate! by Watermelon Slice Band, Vaasa Lyceum's Music Club
22.30 - 24.00
FAREWELL PARTY
Did you like the article?