Nyyti News 10/2022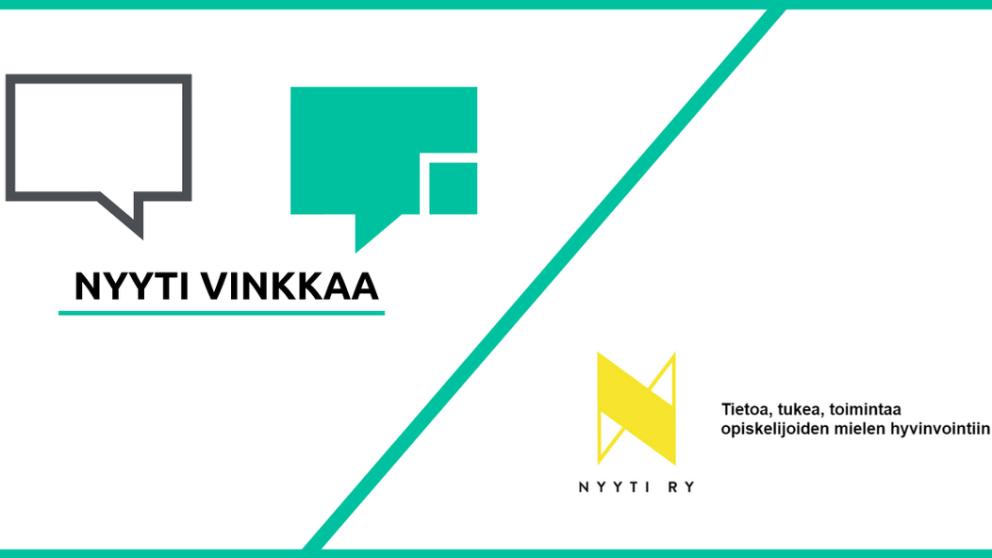 October usually brings heavy autumn rains and autumn storms. October is also a time of cool weather and darkening afternoons. With dark mornings, grey days, and darkening afternoons, you may feel even more tired and it can be challenging to start different tasks.

In our English-language chat we talk about fatigue related to darkness.
Keep reading and you will find out more about the chat and Nyyti Finnish-language activities.
You can find the most up-to-date information about our activities on Nyyti's pages on Instagram, Facebook, LinkedIn and Linktr.ee, as well as on Twitter and Tuudo, and of course on Nyyti's website.
Nyyti´s Chat
In the October English chat, we talk about fatigue related to darkness. Dark days during wintertime may make you feel more tired than ever.
In Finland we may have many sunless days in the wintertime. You may have heard someone refer to this sunless time as kaamos. Kaamos is often talked about when referring to the heart winter season in Southern Finland as well. Although in other parts of Finland there are many sunless days in the wintertime, the real kamos is experienced only north of the Arctic Circle.
The sunless days of winter are a difficult time even for us Finns. So, what is this time for those who are used to the sunnier winter time. On top of all that, people might get insomnia during kaamos time. That´s a very hot cup of tea from a mental health perspective. It is exhausting.
Come and chat with us to find out you are not alone with these problems!
The chat will be held on Tuesday 25th October. The theme is: Feeling tired all the time? (The link opens in a new window).
By clicking on the name of the chat, you get more information about the chat (opens in a new window).
Check out all our chats on our website (opens in a new window).
Activities and webinars
During the end of autumn, students are offered two more courses and two webinars
The first group is the Mindfulness & addiction course for young students and the other is peer tutoring for older students.
The Mindfulness & Addiction course for young students will be held on Zoom from October 24 to December 12, 2022. Peer group for older students will be organized in a guided manner on Zoom between 17 October and 14 November 2022.
These courses are held in Finnish. More information can be found here in Finnish (opens in a new window).
The webinars are: The best time of your life? - Alone in university / university of applied sciences and How do I cope with everyday studying? Both webinars are held in Finnish.
You can find more information about the webinars from our website in Finnish:
Did you like the article?