Optical measurement technology and space data to increase the effectiveness of forestry's value chain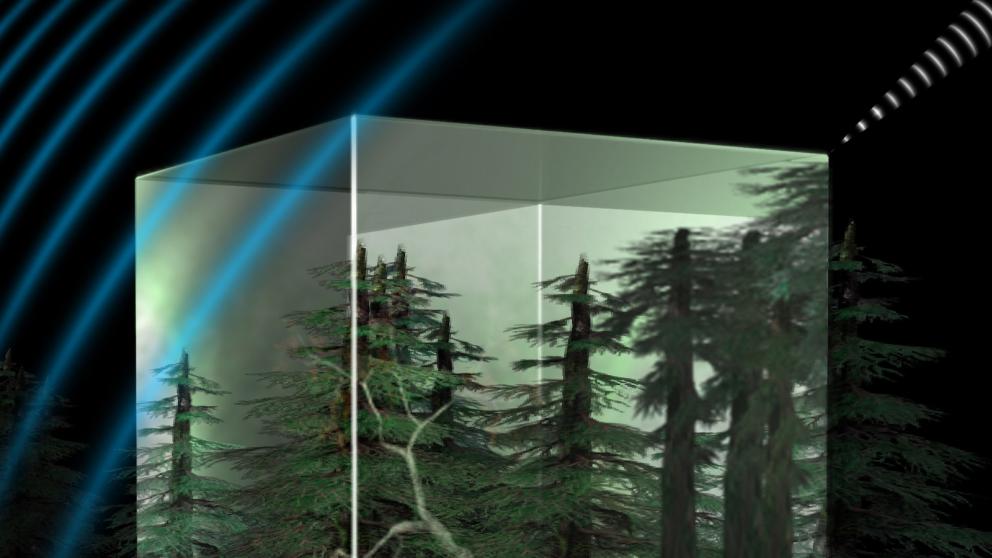 The University of Vaasa and its Swedish partners Skogstekniska klustret, the lead partner, and Adopticum are together researching how optical measurement technologies and satellite data can be used to increase the efficiency of the activities of the forestry value chain's various sections, from the preparation of soil to planting, timber harvesting and complete wood products.
A boost to innovation and competitiveness
The joint project researches how increasing the efficiency of forestry's value chain can benefit from optical measurement technology and satellite data. The partners are researching concrete applications and mapping which actors would be able to utilise the new technologies in their operations.
– We have noticed that companies in many sectors should speed up their digitalisation activities and find new ways of utilising technology that would support this process. Both optical measurement technology and satellite data can offer new solutions that increase the efficiency of various functions and thus drive both innovation and competitiveness, both of which are important particularly in a pandemic situation, says Adopticum's CEO Kenth Johansson.
Companies in the sector on both sides of the Kvarken in Finland and in Sweden are welcome to participate in the project and to learn more about the opportunities offered by satellite data and optical measurement technology.
– It is great to get to carry out this preliminary study together with our Umeå-based partners. Forestry is an important sector in both all of the Ostrobothnian regions as well as in the province of Västerbotten. Various kinds of data received from satellites are already now utilised in the forestry sector, but certainly, there are more new opportunities for utilisation to be found, says Heidi Kuusniemi, Director of University of Vaasa's Digital Economy research platform and Professor of Computer Science.
Cross-border cooperation
The preliminary study, Optisk mätteknik i den skogliga värdekedjan, now launched will be carried out on both sides of the Kvarken supported by European Union's Interreg Botnia-Atlantica programme, and it will last for nine months. The preliminary study will be carried out by Skogstekniska klustret, a developer of forestry sector companies, and optical measuring technology expert Adopticum, from both Sweden, as well as the University of Vaasa's Digital Economy research platform that studies utilisation methods of space-based data among other data sources. The partners hope to continue studying the subject also after the preliminary study.
The project will begin at the start of April, and it will continue until the end of 2021.
The project is financed by the European Regional Development Fund via the Interreg Botnia-Atlantica programme, as well as the Regional Council of Ostrobothnia, University of Vaasa, Region Västerbotten, Umeå kommun and Skellefteå kommun.
The cluster of forest technology
The Cluster of Forest Technology is an association comprising 10 member companies. The heart of our work is our innovation system, where we connect our member companies with researchers, students, start-ups, forest companies and funders. We transfer knowledge, arrange events, develop projects and help find funding – while supporting equality and sustainability. With our help, the forestry industry reduces lead times new solutions, innovations and products.
Adopticum
Adopticum is a foundation specializing in optical measurement technology. Adopticum has expertise in both hardware and software development and runs projects together with businesses in need of technical solutions, product owners and other specialists. The aim is to develop new and innovative solutions that are at the forefront of technology. The goal is to contribute to increased competitiveness to companies in northern Sweden and give rise to new products and services.
University of vaasa/the digital economy platform
The Digital Economy platform of the University of Vaasa is an open research platform for interdisciplinary research on innovations enabled by new technology as well as their impact on individuals, organizations, industry and society. Research objects include AI, machine learning, automation and the impact of digitalization on ways of working, communicating and building business.
Contact
University of Vaasa: Heidi Kuusniemi, Head of sub-project, heidi.kuusniemi@uwasa.fi and Johanna Haveri, Coordinator of sub-project, johanna.haveri@uwasa.fi
Skogstekniska klustret: Aline Kärrbäck, Project Manager, aline.karrback@skogstekniskaklustret.se
Adopticum: Maria Strand, Head of sub-project, maria.strand@adopticum.se
Did you like the article?