Nyyti News 3/2022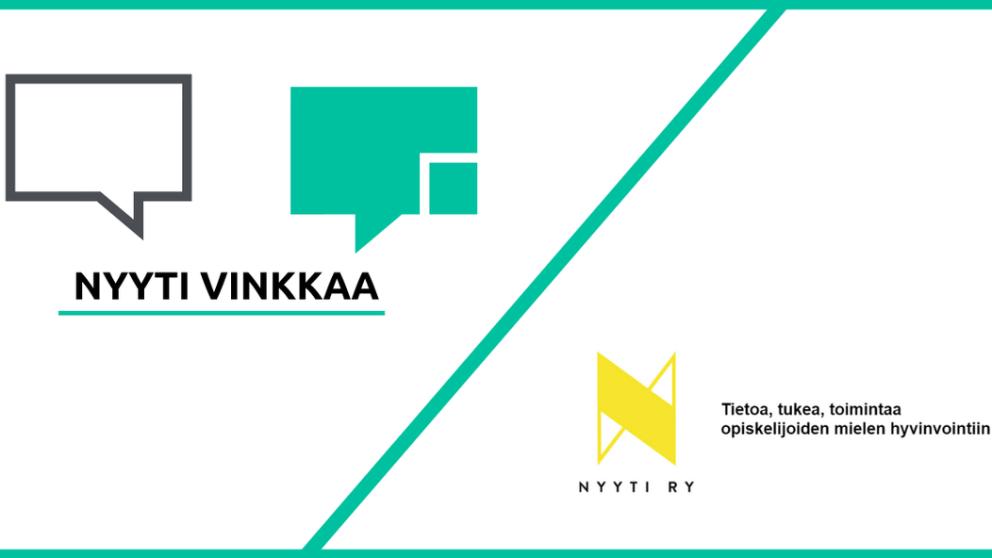 The past week's news has been thought-provoking and emotional for all of us. The outbreak of war in Ukraine has affected us all and will affect us for a long time to come. It is understandable to feel different feelings, worries and fears.
Concerns, feelings, and fears are worth addressing. They should not be pushed aside or repressed. However, it is important to remember that one should not worry too much, and one should not be ashamed of one's own feelings. If we deny our feelings, we give fear more power, which can lead to growing anxiety and panic reaction.
Note these if the war in Ukraine raises concerns and fears
Acceps the thoughts and feelings that come up.
Talk to someone about your thoughts and feelings.
Stop hanging in your thoughts, live in the moment. Enjoy and do things that bring joy.
Limit your media if the news stream is causing you anxiety.
Read the whole news: How to deal with the feelings, fears and concerns caused by war? on our website
March in Nyyti
In this newsletter you will find information about Nyyti's activities during March. In addition to Nyytin Chats, we organize various trainings and webinars, which are held in Finnish. In the letter, you will also find information about the e-mail challenge organised by the project Ympäristöahdistuksen mieli, information about groups and courses for students, and the MoMent mobile app, as well as preliminary information about April's events. This information is in Finnish only. In addition, you will find information about the campaign linked to the Students' Mental Health Day, which will be held on April 13, 2022.
Please continue reading the newsletter, and you know more. Follow our activities on Instagram, Facebook, Twitter, Tuudo, and of course, on our website.
Nyyti's Chat
In March chat, we discuss time management. What is time management, and how can it be done effectively? You are most welcome to discuss ways and benefits of taking control of your time. Come and chat with others.
Nyytis chats in English are held on Tuesdays from 6 to 8 pm. Participation in the chats is free of charge and anonymous. No prior registration required. Click on the chat name below to see a more detailed description of the chat. You will find Nyytis Chat, which is a group chat, and more information about upcoming chats on our website.
Change in mielenTEKoja Chat Opening Hours
mielenTEKoja Chat offers support to university students. During March, the Chat will be open only on Mondays from 5 to7 pm. The mielenTEKoja Chat will continue until March 21, 2022. You can access the Chat on Nyyti.fi website.
mielenTEKoja chat is free and it offers students peer support by anonymous one-on-one conversations with trained peers. Come have a chat about anything that is on your mind!
Participate in Students' Mental Health Day Campaign!
Students' Mental Health Day is held again this spring. This year, the campaign theme is compassion. Students' Mental Health Day will be celebrated on Wednesday 13 April and there will be social media posts around the theme for a week during 7 – 14 April 2022. Our goal is to encourage conversation about students' mental health and to invite everyone to support the cause of mental wellbeing. Please join us – Students' Mind Matters!
You can join the campaign by arranging compassion-themed events and activities on the theme week 7 – 14 April, by participating in the social media challenge #GoodEnough, by posting about compassion on your own sites and encouraging students to share their own compassion-related content. Now it's a good time to start planning your campaign activities for April!
The campaign will have diverse compassion-themed content on its page and on Nyyti social media. The campaign site has further information on the theme, tips for participating, material bank and the possibility to register your campaign activities in advance. We are actively updating the campaign page along the way, so bookmark the campaign page now.
The campaign page can be found here
#GoodEnough #StudentsMentalHealthDay #MentalHealth
Did you like the article?