Job interview workshop for students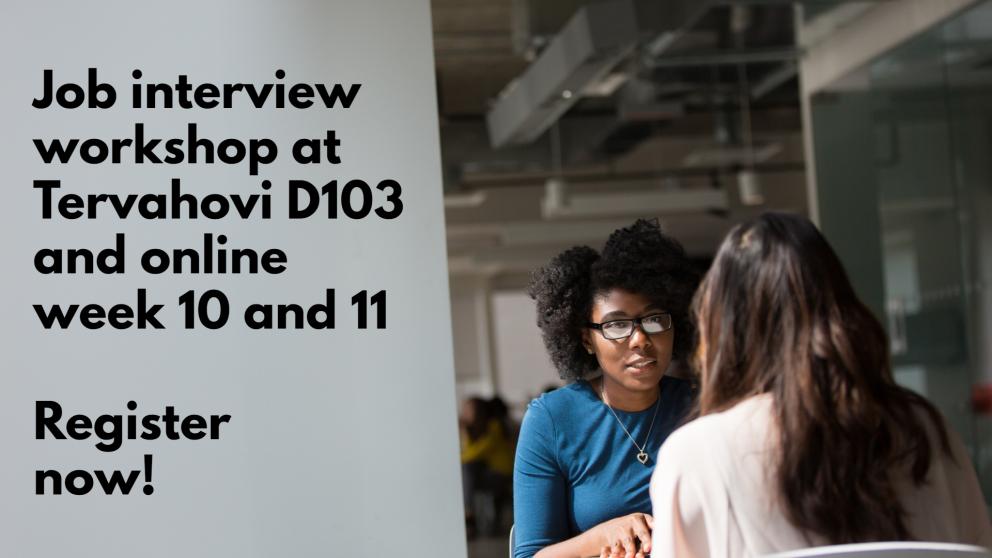 Job interview workshop on 9.3. 12-14 & 16.3. 10-12 or 17.3. 14-16
Welcome to this job interview workshop arranged by career services at the University of Vaasa. The workshop is arranged in English, all students are welcome. The sessions are connected, we will build on from the first session to the second. It's best to attend both sessions.
The content is suitable for everyone and all students are welcome, most parts of the content are ideas that are important for all of us. The focus is on interviews, attitude and practice. There will be overlapping presentations and practice. You will get a preparation exercise before the first date, to help you advance.
You will increase your performance for job interviews and job search in general.
You will be able to plan your job search and prepare better for job interviews.
You will have the opportunity to practice and increase confidence for job interviews, which will help you be more effective.
You can also give suggestions on what kind of content you would like to have.
There is also possibility for online attendance, you will get the best experience from on-site attendance. If the room capacity is reached, you can attend online. 
Please sign-up through this form.
Welcome,
Torbjörn Strand / Career services at University of Vaasa
Did you like the article?