Changes in the University of Vaasa campus area during the spring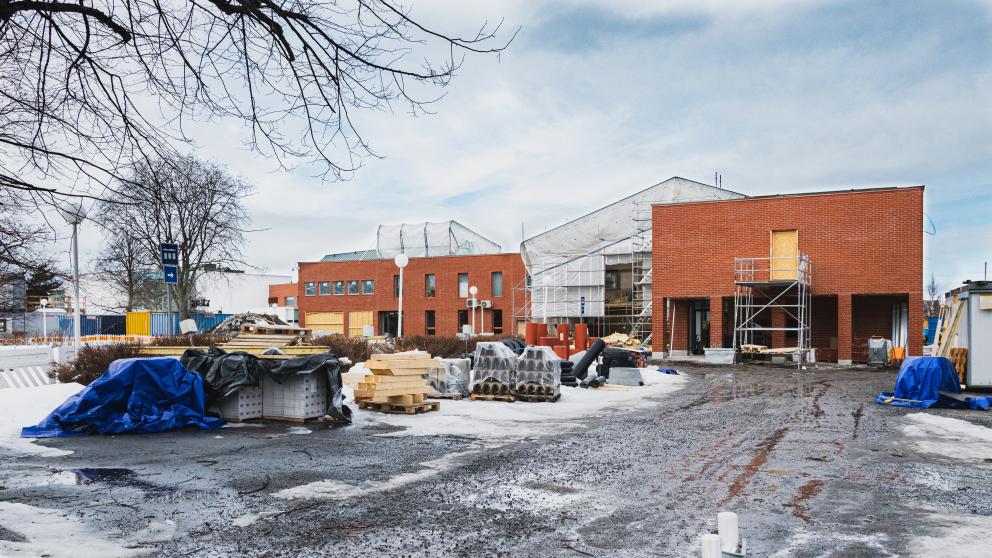 The goal of developing our campus area is to create a world-class innovation environment that is an attractive studying, working and meeting place for staff, students and various actors. During the spring, the most visible changes will be the rising of the Luotsi building extension to rooftop height and the new appearance that the campus park will get by the summer. According to the plans, the construction of Luotsi will be completed by the end of July.
The development of the University of Vaasa campus area is much more than a construction project. In the development, the most visible change is the renovation of buildings and premises in the area, but it is also a question of future changes related to the use of operating methods and facilities. The needs of the students and staff for facilities have changed, and the pandemic has further accelerated the development. The aim is to build facilities that support the university's activities and the sense of community and enable staff and students to thrive.
During the course of the project, views have been gathered from the staff and students on the future facilities. The key wishes of the staff have been related to work ergonomics, rules of the use of facilities and peaceful working conditions. The key views of the students have concerned
spaces that enable genuine encounter, support learning and provide peaceful working conditions where necessary.
Luotsi to be completed during the summer
The most visible change in the campus area at the end of the autumn was the renovation of the Luotsi building. The work has progressed according to schedule, and the aim is to complete the site by the end of July.
"Finishing of surfaces and furnishing are currently under way on the premises. The most visible phase to the outside is the construction of the glass walls of the Luotsi extension. The park in the area will also get a new look during the spring and summer," says Harri Salmela, Director of Finances at the University of Vaasa.
During the spring, the design phase of the Tritonia building will also progress, carrying forward technical design development. The aim is to begin construction in early August, once the plans have been approved. However, the tower part will be in use throughout the renovation of the Tritonia building.
The last part of the entire campus development project, Tervahovi, will proceed to the construction phase in the second half of next year. More detailed condition surveys and planning work will commence during this spring.
More information about the campus development project:
Harri Salmela, Director of Finance, University of Vaasa, harri.salmela@uwasa.fi
Did you like the article?