Nyyti News 8/2021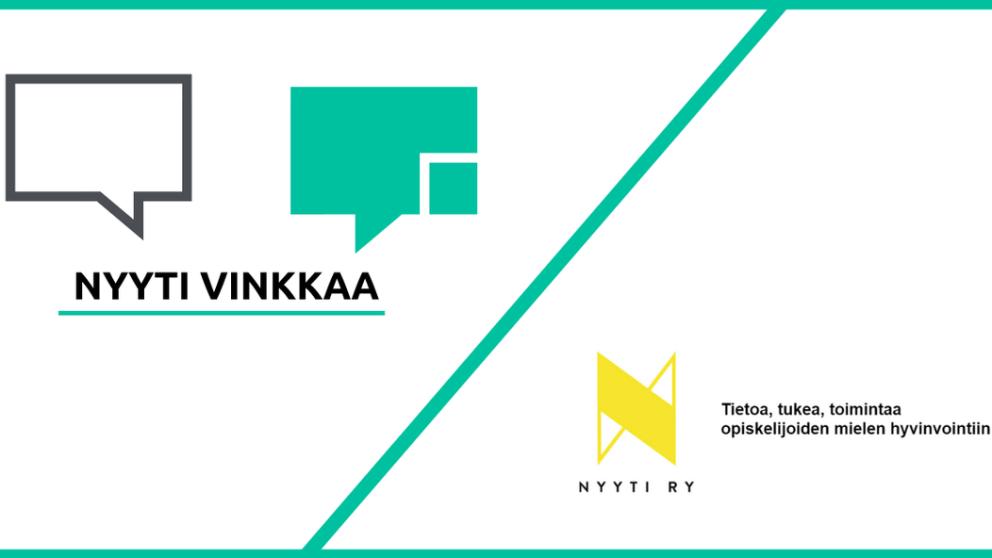 In nature, autumn progresses at a rapid pace and creates colourful landscapes in front of us. With the autumn, a lot has already happened at Nyyti and there is still a lot to come.
Nyyti ry is involved in a major project involving several universities and organisations, 11 in total. The aim of the Wellbeing Through Counselling (Ohjauksella hyvinvointia, OHJY) project is to innovate solutions to support your wellbeing, coping and learning abilities, and to help you find the support services you need at your own university.
So what will happen in Nyyti in October? That you will find out as you continue to read. 😊
The articles in this newsletter are freely available for distribution and use. Please pass on the information as your help is important to us to reach as many students as possible.
Follow our activities on Instagram, Facebook, Twitter, Tuudo and of course on our website.
Survey on matters belonging to the study year
You Student!
Answer the questionnaire on current issues during the academic year. Tell us what kind of current issues and important moments your academic year entails, when what happens and when you start thinking about things related to a certain moment.
It would be extremely great if you would like to take a moment and answer this survey
We want to develop our communication to better meet the current issues and needs of students. It will only work with your help! That is why your answers are very important to us. It takes approximately 10 minutes to complete the survey.
The results of the survey are treated confidentially, and the respondent is not identifiable from the responsesa.
mielenTEKoja - one on ones chat is here and opens on 7 October 2021!
mielenTEKoja-chat offers university students one on ones peer support regarding studies and mental wellbeig. The chat is especially aimed at the technincal and natural science fields, but any student who feels the need to talk is welcome!
The chat opens on 7 October 2021. You can chat in English evere Thursday from 5 to 7 pm. Come and chat with us.
In the chat, students can have one on one conversations with trained volunteers about mental wellbeing, studies and coping with everyday life as a student. Our volunteers are also university students, with backgrounds varying from architectural engineering to psychology. Talking in the chat is free, no appointments are required.
More information on chat and other mielenTEKoja-activities can be found here!
Nyyti´s Chat
Chats run on Tuesdays from 6 to 8 p.m. Participation in the chats is free of charge and anonymous. They also do not require prior registration. Click on the link in the chat name below to learn more about the content of the chat. More information can also be found on our website.
In October's chat we discuss self-criticism and ways to achieve contentment with ourselves and what we do.
Did you like the article?