Nyyti News 7/2021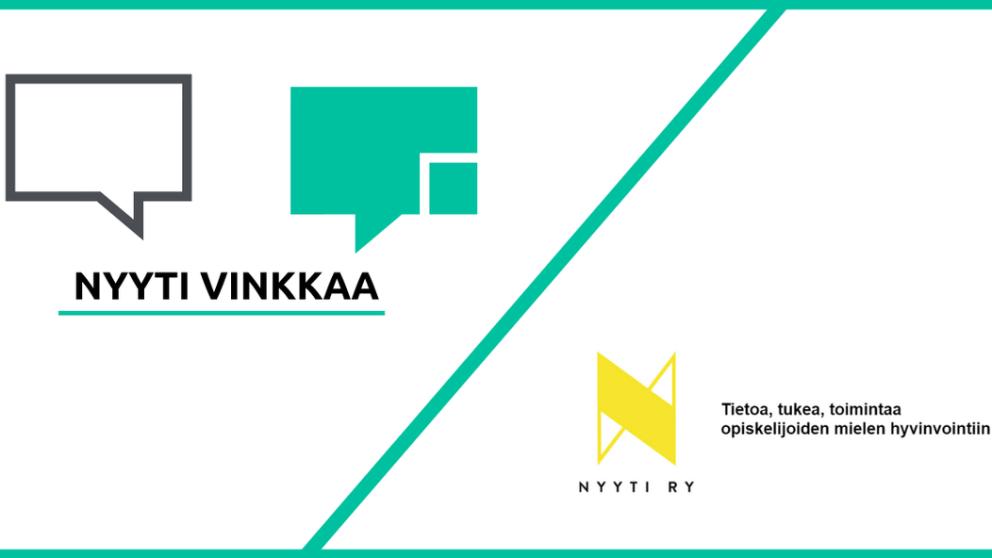 The campaign Finland cares, which is currently underway, highlights the importance of volunteering for the recovery after a crisis. During the Corona era, Nyyti's invaluable volunteers have helped break the isolation of students who study alone in their homes. The volunteers have been present and interacted e.g. as moderators of group chats, Instagram conquerors, guests and producers of podcast episodes and sharers of their own stories.
One of our volunteers describes what one gets from volunteering as follows: "It makes me feel like my actions matter and that people can benefit from what I can offer. It is always nice to help others and let them know that we all struggle, and they are not alone."
Would you like to give some of your time for the benefit of your fellow students? Join Nyyti's volunteer group! You can find more information about our volunteering activities and instructions on how to become a volunteer on our website.
Like our volunteers, Nyyti ry and its employees care about and take care of students' mental well-being, mental health, and ability to study. Nyyti ry has published the Wellbeing skills - booklet and in September we will have an English chat on time management in studies. You can read more about the chat and other topics in this newsletter, so keep reading 😊
The articles in this newsletter are freely available for distribution and use. Please pass on the information as your help is important to us to reach as many students as possible.
Follow our activities on Instagram, Facebook, Twitter, Tuudo and of course on our website.
Share your story!
Have you experienced something that can help or comfort someone else? Share your story!
Students' personal stories are among the most popular content on our website. You may share your story with us, at any time, on any topic, but right now we are particularly interested in stories for our communications in social media during October and November. Are you sitting on a story about compassion, coping or perhaps about building yourself and your identity in the collision between different impressions and norms?
You can write your story under a pseudonym or your own name. Topics other than the communication themes mentioned above are also welcome. Let yourself be inspired by other people's stories and write your own! You can read the stories of other students here. If you got excited, you can post your own story here.
Story workshop
If you are sitting on a story, but writing it down feels difficult, you are warmly welcome to a remote storytelling workshop on Thursday 30 September from 5 to 8 p.m.
If you want to join the workshop, join Nyyti as a volunteer. More information about the workshop can be found on our website.
Nyyti´s Chat
Nyyti's autumn is again full of peer activities for all students online! Chats run on Tuesdays from 6 to 8 p.m. Participation in the chats is free of charge and anonymous. They also do not require prior registration. Click on the link in the chat name below to learn more about the content of the chat. More information can also be found on our website.
In September's chat we discuss ways and benefits of using of the time available.
The booklet "Wellbeing skills, Training for the students" has been published
The booklet "Wellbeing skills, Training for the students" is ideally suited to the independent strengthening of everyday wellbeing skills as a support and background material for conducting life skills courses.
The guide was written in cooperation with Haaga-Helia University of Applied Sciences.
Did you like the article?