Nyyti News 6/2022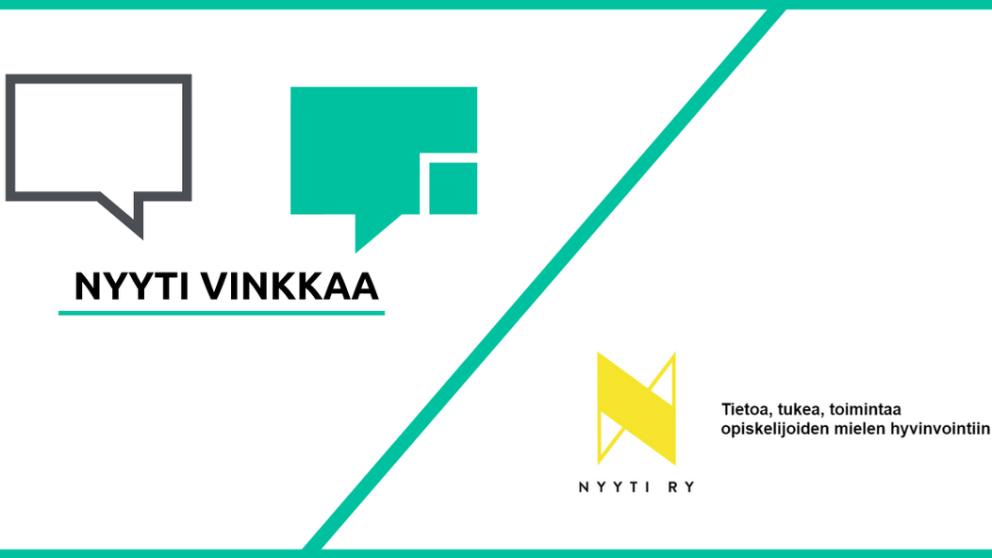 The sun warms the mind and hopefully the graduation days of many students as well. Many educational institutions have already celebrated or will celebrate the completion of students' studies in the spring of 2022.
-University students graduate to very different realities: some have a significant number of life knocks and years of mental strain, social difficulties and / or lack of supportive relationships, writes Annina Vilkas (@iamvilkas), Curator of Studies at Tampere University of Applied Sciences (TAMK), in her Instagram story and post on 27 May 2022.
The media glorifies top graduates. As Vilkas writes, there are other types of top performance that also deserve annealing. According to Vilkas, the headlines about these top performances could be e.g.
The student completed half as many credits in the spring semester as in the fall semester, even though one encountered serious mental health problems at the same time
Diagnosis of ADHD, medication, and Kela's Oma Väylä rehabilitation came into play: The student promoted ones thesis and continues to study within the statutory overtime
The challenges of coping slowed down studies and the motivation to study was lost from time to time, but the student passed most of the courses planned for the spring, and lightened studies continue at ones pace in the autumn
The student surprised others and oneself: OCD and social anxiety were close to preventing one from continuing ones studies, but now studies continue with discretionary overtime
All students with their own top performers deserve glow and congratulations. It is especially important that we also remember to glow and congratulate those students whose achievements are backed by a tremendous amount of effort. They do hundreds of times more work!
-A grade or a certain number of credits does not determine anyone's value as a student or a person, writes Vilkas - and so it really is!
We congratulate every student on their own top performance!
Future Activities
In this newsletter you will find information about our new projects, Nyyti's summer activities and preliminary information about the autumn.
In June, we will discuss the promotion of holistic wellbeing from the perspective of exercise, rest, nutrition and social relations. In addition, we will ponder where a student can get help during the summer, and we highlight the Swedish and English materials produced by Nyyti. It is therefore worthwhile to follow our communication on various channels and on our website.
You will also find a taste of our autumn chats, groups and open trainings in the letter. More detailed information about the autumn activities can be found on our website.
Please continue reading the newsletter, and you know more. 😊
Follow our activities on Instagram, Facebook, Twitter, Tuudo, LinkedIn, and of course, on our website.
Where to get help during the summer
During the summer, the opening hours of different actors may change or services and functions may be completely absent. Find yourself a safety network for the summer well in advance. Also, consider what kind of actors you might need to deal with. Here are a few tips for you:
In case of emergency, seek out your closest emergency room or call 112.
You may also contact Mieli ry's English Crisis Helpline +358 9 2525 0113 or also reach them through Whatsapp +358 40 195 8202 if you are going through a tough time and need counceling or would like to talk to someone about your situation.
In the Find Help section of our website, you will find information on various help actors by topic.Topics:

Acute crisis situations
Abuse and addiction
Domestic violence
Finances and living
Healthcare
Mental health
Relationships and family
Sexuality and sexual health
Studies and career planning
Youth work in the parishes

FSHS services are at students (excluding exchange students) disposal throughout the summer

If you are an exchange student, please, contact your university for more information

The availability of university staff, such as study psychologists and study counselors, varies during the summer. You will get the best information about the presence of the person you need or their possible substitute from your own university.
Kela and Tax Administration also serve during the summer on weekdays.
Nyyti's Chat
Come share your thoughts on discovering and taking care of strengths for emotional wellbeing in our June chat on
Nyytis chats in English are held on Tuesdays from 6 to 8 pm. Participation in the chats is free of charge and anonymous. No prior registration required. Click on the chat name to see a more detailed description of the chat.
In July, our chat will take a break. This autumn's first English-language chat will take place on Tuesday 30 August. The subject is: How to find friends at the beginning of studies?
Did you like the article?