Nyyti News 10/2021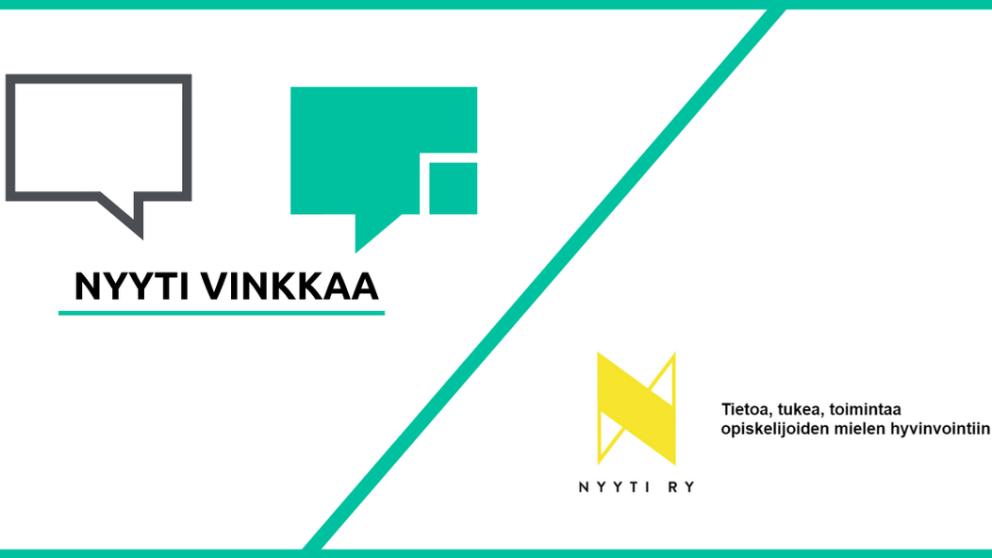 The year 2021 is nearing completion and the last Nyyti vinkkaa newsletter of this year is ahead of you. We wish you a rewarding end to the year and a wonderful Christmas!
In this newsletter, you will find information on Nyyti's chats In December, stories written by students as well as links to NyytiTalk broadcast held in English.
The letter also contains information in Finnish on our December webinar: From apocalypse scenarios to building hope, the Men's Turn peer discussion sessions, the latest NyytiCast podcast episodes as well as on NyytiTalk-broadcasts. We have also published stories in Swedish and held NyytiTalk broadcasts in Swedish.
In this newsletter, there are also links to the recordings of NyytiWebinars held in 2021. All webinars were held, and the recordings are subtitled in Finnish.
The articles in this newsletter are freely available for distribution and use. Please pass on the information as your help is important to us to reach as many students as possible. Follow our activities on Instagram, Facebook, Twitter, Tuudo and of course on our website.
Nyyti`s Chats
Year 2021 it's coming to its end after a month. This has been another extraordinary year. How are you doing after this year? What did the year 2021 bring to your life, did it take something away, did it change you or your perspective on the world? Come and share your thoughts on 2021 with us!
Nyytis chats in English run on Tuesdays from 6 to 8 p.m. Participation in the chats is free of charge and anonymous. They also do not require prior registration. Click on the link in the chat name below to learn more about the content of the chat. More information can also be found on our website.
Nyyti's chats start on a new platform on January 13, 2022 - stay tuned and come try it!
Stories
Are you already familiar with the stories that the students themselves have written on Nyytis website? The stories deal with things and phenomena in the student's life and well-being from a personal point of view.
The following two stories were published during November:
Story: When you have to come out of the closet again and again
"What is less talked about, however, and therefore came as a surprise to me, was how many times you must come out of the closet when the name and gender marked on the papers is wrong. […]
However, I never volunteered for coming out of the closet again and again, explaining myself, and the public sharing of my deadname. This happened against my will – just because I am a transgender student. I just wanted to go to high school in peace. But I couldn't."
This is how the pseudonym and transgender activist Oliver Tuhka Sirius describes his struggle and his everyday difficulties as a high school student, whose birth name from the past still haunt him in the official registers. Read the whole story on Nyyti's website.
Story: Learning to stay true to myself and my identity
"I lived with my mother and siblings in Europe; [my father's] new girlfriend was in Canada. […]
When he came, I did everything to please him, said yes to everything, was up for anything and I would pretend I like everything just to be loved by him and was secretly hoping he would stay. […]
When he died, I felt that a part of my identity is passing away as well. […]
And it was only then when I came to realize that by saying yes to everything, that I have a character built on pleasing people to be loved. […]
I recently read a quote that says: "You can have anything, but you can't have everything". I wish my dad would have read this quote and would have lived accordingly to that and would have taught me that."
This is how the pseudonym Lolo describes (Lolo's) father's and Lolo's relationships and realisations that have come out of it. Read Lolo's whole story on Nyyti's website.
Introducing NyytiTalk-broadcasts 2021
NyytiTalk deals with themes related to, for exampel, student life and wellbeing. relationships, studying and coping with everyday life.
Recordings of previous NyytiTalk broadcasts can be found on our website. NyytiTalk broadcasts streamed on our YouTube channel are subtitled and NyytiTalk goes Instagram spelling is available on our website.
Did you like the article?