The University of Vaasa strengthens innovation and commercialisation activities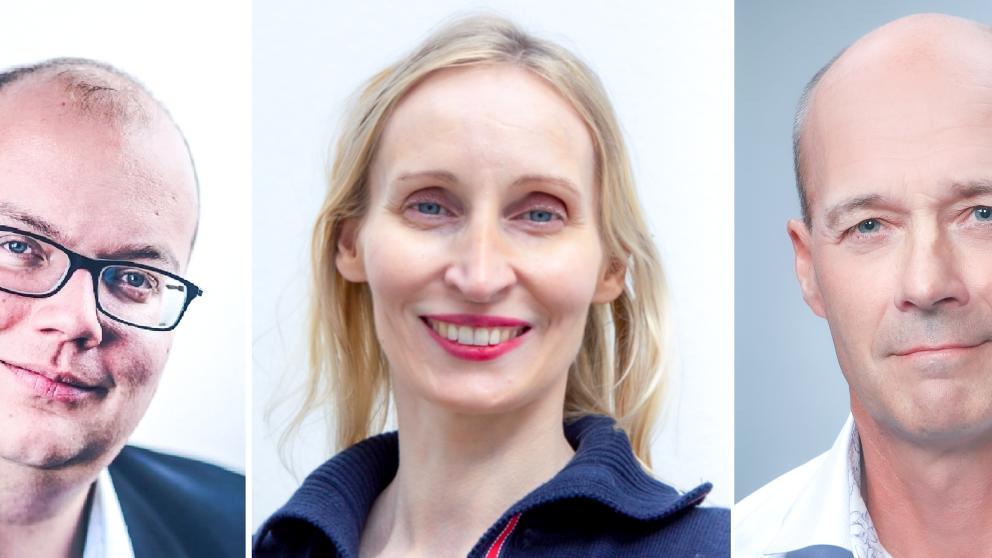 The University of Vaasa strengthens the university's innovation activities and the commercialisation of research results. Philipp Holtkamp, Leena Kunttu and Antti Sinisalo have been appointed senior specialists of the university's innovation activities.
– Our vision is to be an internationally recognised science university. However, the number and high quality of publications and external research funding alone are not enough to meet the criteria – at the international level, science universities are increasingly required to have an impact. This impact must also be measurable. It cannot and must not be self-proclaimed, says Minna Martikainen, the new Vice-Rector of Research at the University of Vaasa.
– Innovations and the commercialisation of research results will speed up the knowledge transfer from universities to society and businesses. In the big picture, university research should be transferred to society in a value-added way through the innovation process.
The recruited senior innovation specialists will form the university's new innovation and commercialisation team. They will help researchers to exploit and commercialise innovations and research results. At the same time, they will create opportunities for collaboration between researchers and companies.
They will stimulate innovation, identify ideas and results from researchers and students, and assess their commercial significance. The specialists will also give support in finding funding, advise on patent applications and related international opportunities, and spar aspiring entrepreneurs.
The team will work closely with other innovation and entrepreneurship actors in the region. For example, Vaasa University of Applied Sciences and the University of Vaasa have a joint startup incubator, West Coast Startup.
An experienced team manages the innovation process from start to finish
– We were originally going to recruit one person. Interest in our university was high. Instead of one person, we were able to recruit an entire high-quality team that manages the whole innovation process from start to finish. Their skills complement each other well, says Martikainen.
Antti Sinisalo has most recently worked as CEO of the biotechnology company Biomensio, and previously, he was CEO of VTT Ventures for several years.
– VTT Ventures has been a major generator of research-based companies in Finland.
Sinisalo says he wants to develop innovation activities in Vaasa and help create business from research results.
– I see Vaasa as a dynamic environment where building activities with impact is a goal. There is an unusually strong cluster of companies here that are internationally significant in their field.
Philipp Holtkamp, who will start at the University of Vaasa in October, will join the University from Wärtsilä, where he has acted as General Manager of Open Innovation and before that as Innovation Manager.
– I am excited about supporting researchers and the university to commercialise their findings, ensuring that the full value of research can be fully transferred to the industry and society.
In his work at Wärtsilä, his development work included activities, processes and working methods related to open innovation, as well as an innovation culture.
– I come from Münster, Germany, and I am a Doctor of Philosophy from the University of Jyväskylä, Holtkamp says.
The University of Vaasa is a familiar place and partner for him. He is also a member of the advisory board of the university's InnoLab research platform.
The third member of the team, Leena Kunttu, works at the University of Vaasa as an innovation researcher and will continue to do some research. She holds a doctorate in science and also obtained a doctorate in economics from the University of Vaasa last year – the topic of her dissertation was research cooperation between Finnish universities and companies.
–  My work has been closely related to innovation. I previously worked as Innovation Director at Nokia's camera unit, and in recent years, I have done research on innovation processes between companies and universities.
Kunttu hopes that her experience will benefit innovation activities both within the university and in the cooperation between universities and companies.
– International innovation research and the impact of innovations are also key issues in my work, she says.
Further information
Minna Martikainen, Vice-Rector of Research, University of Vaasa, tel. +358 29 449 8611, minna.martikainen (at) uwasa.fi
Did you like the article?