Nyyti News 3/2021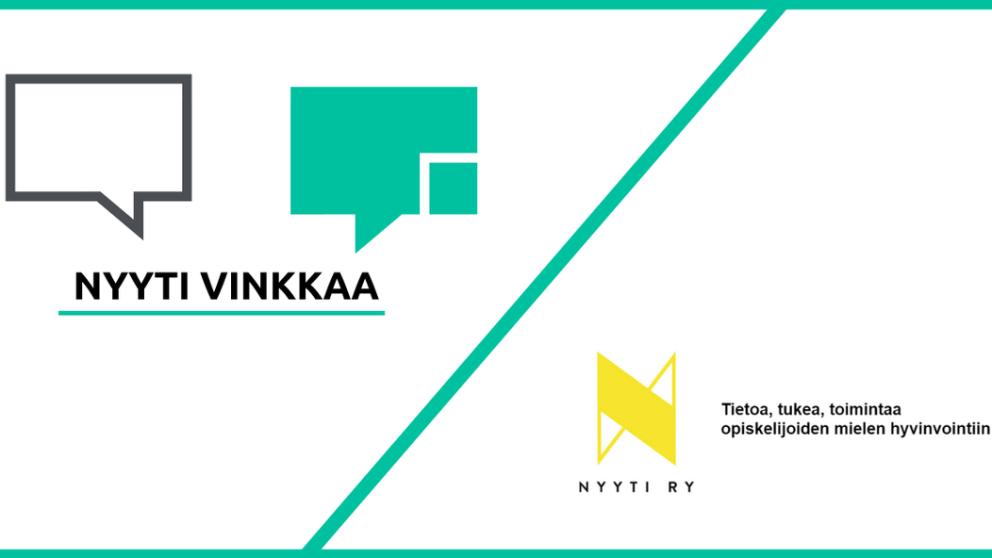 April will bring Student Mental Health Day, which is held on 22nd April. Around the day there is a campaign with the theme: #HelpWorthy. Please participate in the campaign. You can find more information about the day itself and the related campaign in this newsletter.
In this newsletter you can also find information about the Student compass - online wellbeing and life skills program, Nyyti's chats and Nyyti's Instagram live broadcast in which breaking the silence surrounding mental illness in academia is discussed.
#HelpWorthy – Students' Mental Health Day 2021
We all need help at some point in our lives. You are #HelpWorthy whenever feeling the need of help and support from others.
Participate in the Students' Mental Health Day campaign on 12.–23. April by sharing your own thoughts and experiences on seeking help. Encourage your friends to do so too. By being open you also give others a much-needed space to feel #HelpWorthy.
Together we can tear down both our inner and societal barriers that stand in the way of getting help!
Join us – Mind matters!
What can you do?
Courses
Student Compass - online wellbeing and life skills program
The Student Compass (Opiskelijan Kompassi in Finnish) is an online wellbeing and life skills program offering practical tools for:
enhancing psychological and emotional wellbeing
addressing motivation challenges
adjustment
stress-related issues
promoting overall wellbeing.
The program has been developed and is run by Jyväskylä University.
Student Compass is now offering a program specifically aimed for international students (Master's or exchange students), primarily at Jyväskylä University. If there are vacancies, there is also a possibility of attending the program as a student from another university.
The program is all based online and is free of charge. It includes five workshops as well as two individual meetings with the program's coaches. The programs main aim is to promote the general well-being and quality of life of students by offering the opportunity to discuss with other issues such as:
How to adapt and cope with life and study-related stressors more effectively?
Engage in life and studies in a more meaningful way.
Mindfulness and how to integrate it into one's daily life.
The workshops are based on the principles of Acceptance and Commitment Therapy (HOT), an evidence-based approach that utilizes value, acceptance, and mindfulness processes to enhance flexibility and resilience in coping with life challenges. The workshop will be a great opportunity to explore and practice several psychological, emotional, and interpersonal skills, which may be useful not only for personal growth but also in building social relationships and engaging in studies and work in more meaningful ways.
Registration period: 26th Feb – 3rd April 2021.
For more information and to apply, click here.
NyytiTalk
Breaking the silence: Mental illness, academia and seeking help
How is mental illness in academia conceived of from the point of view of a PhD student? Is there help available? How are people who speak out about mental problems met in the academic community? How can one help break the stigma with one's own actions?
These and many more interesting questions will be touched upon on Saturday 17 April at 5 p.m. when Nyyti's trainee Anastasia Lukina Macnab interviews PhD student Mareike Paul about breaking the silence surrounding mental illness in academia. Join in to receive food for thought and possibly even to light the spark for action!
#HelpWorthy #OMTP
Further information on our website
Nyytis´s Chat
Nyyti's chats in April
Tue 27 April from3 pm to 5 pm You have a right to help - but how to get it? 
How can you know when you need help? When facing mental health issues finding help can easily feel and be tricky. But help exists for us all. How to find it for oneself or to someone you are worried about? Welcome to chat about your worry and need of finding help or ways to move forward with mental health issues of yours or someone close to you.
Did you like the article?