Image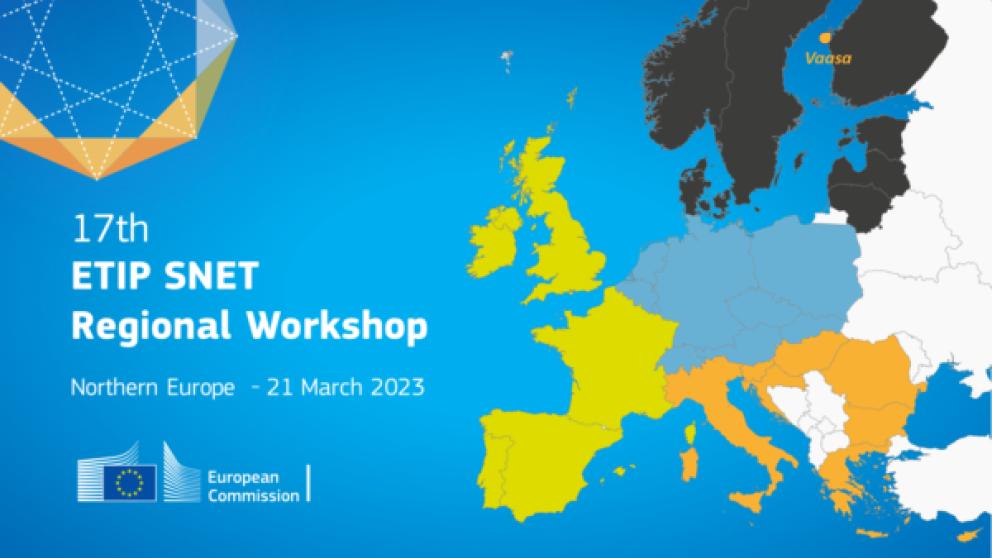 EnergyWeek: ETIP SNET 17th Regional Workshop – Northern Region
Time
Tue 21.3.2023 | 09:00 - 17:00
Location
Vaasa Art Hall
Senaatinkatu 1 (behind the Vaasa City Hall)
65100 Vaasa
Finland
As part of its mission of fostering Research and Innovation activities to support Europe's energy transition with the goal to research, develop and demonstrate technologies, services and their integration across all energy carriers and considering grids and storage, the European Technology and Innovation Platform for Smart Networks for Energy Transition (ETIP SNET) warmly welcomes you to register to the upcoming 17th ETIP SNET Regional Workshop taking place on 21st March in Vaasa, Finland during Energy Week. The workshop is organised in co-operation with Vaasa Energy Business Innovation Centre (VEBIC).
The overall purpose of this event is to link national and regional research, development and innovation (RD&I) to the RDI activities on the EU level; specifically, to the ETIP SNET. To that end, the Regional Workshop aims to bring together representatives of national/regional representatives of authorities or funding agencies and coordinators of leading national, regional, EU projects to identify gaps, and common challenges in how national, regional and EU projects and R&I programmes relate to each other and to the higher-level EU R&I roadmaps, in particular the ETIP SNET Roadmap and Implementation Plan.
This upcoming ETIP SNET Regional Workshop will be based on the Northern European Macro-Region (consisting of Finland, Estonia, Denmark, Sweden, Norway, Lithuania and Latvia).
More information:  Dr. Suvi Karirinne, Director, University of Vaasa, VEBIC, tel: +358294498284, email: firstname.lastname@uwasa.fi
Programme
TIME
TOPIC
SPEAKERS
10.00
Opening Remarks
VEBIC Representative
10.05
Keynote Speech
European Commission – TBC
10.15
Introduction to ETIP SNET & BRIDGE
Maria Laura Trifiletti

ETIP SNET Coordinator

10.25
Introduction to ETIP SNET Roadmap 2022-2031 and HLUCs
Nikos Hatziargyriou

ETIP SNET CORE Team

10.35
Panel Session: National/regional representatives

·         Key Ideas from Funding Programmes

Ludwig Karg – Moderator

National/regional reps – TBC
Reijo Munther, Head of EU Initiatives, Business Finland
Maria Backman, City of Vaasa, Strategy
Baltic Reps – TBC
Further Nordic Reps – TBC

11.20
COFFEE BREAK
11.40

Projects Panel Session 1: Integrated Energy Networks

·         Cross Sector Coupling

·         Transport & Storage

·         Energy Markets

(based on ETIP SNET IP HLUC 1,3,8)

Ludwig Karg – Moderator

ETIP SNET CORE Team

National/regional reps

Projects – TBC

12:25
Research with impact – the Finnish way.

·         Helena Sarén, Member of Board of Nordic Energy Research (tbc)

·         Kenneth Widell, Programme Manager at Wärtsilä Smart Technology Hub

·         Pia Salokoski, clic innovation, Senior Advisor for RDI in Finland and Clean Energy Transition Partnership

·         Jan Segerstam, Enerim Oy, expert for transforming technologies

 
13.15
LUNCH AND NETWORKING BREAK
14.15
Projects Panel Session 2: Renewable Energy Systems

·         Massive RES Penetration

·         System Operators' Collaboration

·         Power Electronics Challenges

(based on ETIP SNET IP HLUC 2,4,6)

Ludwig Karg – Moderator

ETIP SNET CORE Team

National/regional reps

Projects – TBC

15.05
Session 3: Digitalisation and Citizen's Involvement

·         Empowering Consumers & Smart Communities

·         System Control

·         Cybersecurity

(based on ETIP SNET IP HLUC 5,7,9)

Ludwig Karg – Moderator

ETIP SNET CORE Team

National/regional reps

Projects – TBC

16.00
Wrap Up
Rainer Bacher
16.10
Closing Remarks
TBC
16.15
CLOSING