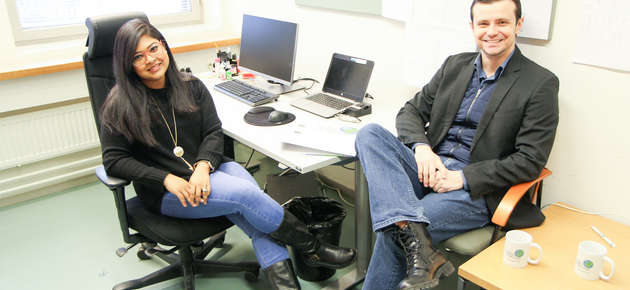 Biswas and de Melo are very happy about being a part of the international project and being in Vaasa. De Melo has already recommended the university.
– It is very good to work in the research team of human resource management here in the University of Vaasa. We are able to do our work independently and flexibly but we also receive support from our supervisors, Biswas and de Melo say.
According to Vesa Suutari, professor of management, the goal of the international research project is to increase understanding about the global mobility and its aspects. Suutari guides the researchers in Vaasa with  Liisa Mäkelä, professor in human resource management.
– Global mobility is one of European Union's original goals. The project brings valuable, high level research and international cooperation to the university, Suutari says.
Both the research and the researchers must be on the international top level. Biswas and de Melo have good international experience from work and studying.
– When we read about the project, we immediately wanted to apply. The recruiting process had two phases, after which we were accepted to Vaasa, Biswas and de Melo describe.
"Moving abroad to work may affect life quality"
All the researches in the project have their own research projects. Biswas and de Melo cooperate and even share the office room. In that way, it is easy for them to have conversations about the project and help each other.
Biswas focuses on the welfare of expatriates. She is especially interested in in matters that affect the welfare of the expatriates and how it could be developed. De Melo on the other hand studies the mobility in the viewpoint of career success and its long term affects.
– Being an expatriate can change the quality of your life in many ways. The new situation may, for instance, require a lot of travelling, extend your working hours and you might not get enough support from the organization, Biswas explains.
The international project trains and develops a unique network of experts
The GLOMO project is based on an international network of professors who study the global mobility. 15 researchers do their own individual researches as a part of the project.
The researchers write articles with their supervisors to international publications and a book of the project's main results and create a tool for international human resource management. The researchers also complete two exchange periods: one to another university and one to a firm in another country. The cooperating firm in Vaasa is Wärtsilä.
The organisations participating the project with University of Vaasa are the University of Bamberg, Copenhagen Business School, Cranfield University, Institute for Employment Research, Toulouse Business School, Vrije Universiteit Amsterdam and Airbus SAS. The European Union funds the project.
Additional information
Professor Vesa Suutari, School of Management, University of Vaasa, 029 449 8433, vesa.suutari(at)uwasa.fi
Text and photos: Enni Matikainen