Mohammed Elmusrati, Professor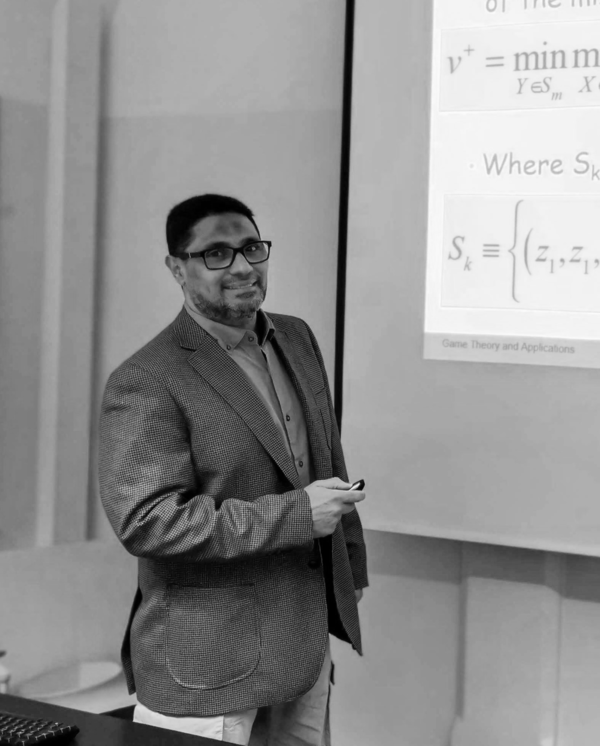 Biography
Full Professor of Communication and Systems Engineering
Head of the International program of Industrial Digitalization
Doctor of Science (Tech.), Automation Department, Aalto University - Helsinki (2004)
Licentiate of Science (Tech.) "with distinction", Control Engineering Lab., Aalto University - Helsinki (2002)
Master of Science "with high honor", Electrical and Electronic Engineering, University of Benghazi – Libya (1995)
Senior Member of the IEEE
Member of the Automation Society in Finland
Member of SIAM (Society for Industrial and Applied Mathematics)
Work Experience
Full Professor (Permanent position) and Head of Industrial Digitalization (ex. name: Wireless Industrial Automation) Group – School of Technology and Innovations- University of Vaasa - Finland, starting from 1.6.2009 - present
Professor at Telecommunication and Systems Engineering – Faculty of Technology, University of Vaasa starting from 01.08.2007-31.5.2009.
Visiting Professor at Faculty of Electronics, Communications, and Automation, Aalto University (previous name: Helsinki University of Technology) – Finland from 2015-present
Full-Time Senior Lecturer and Researcher at Department of Computer Science, University of Vaasa – Finland from 1-8-2004 to 31.7.2007.
Visiting Researcher at Radio Lab. Royal Institute of Technology (KTH) – Stockholm – Sweden during 2003.
Researcher Scientist: at Helsinki University of Technology, Control Engineering Laboratory from 1-9-1999 until 31-07-2004.
Full-Time Lecturer Assistant at Faculty of Engineering- Benghazi University – Benghazi - Libya, from fall 1995 to spring 1999.
Teaching Experience
Elmusrati has about 25 years of teaching experience in different international universities. During this period, he has taught many courses in different areas/fields and for different scientific levels. Some of the courses are:
1. Undergraduate (B.Sc.) courses:
Telecommunications
Control Engineering
Numerical Analysis
Microwaves Laboratory
RF Technology
Analogue and Digital Electronics
Logic Design
Linear Systems
2. Graduate (M.Sc.) courses:
Advanced Signals and Systems
Machine Learning
Broadband Wireless Communication
Mobile Networks
Digital Communication
Advanced Telecommunication Theory
Radio Resources Management
Computer Simulations
3. Postgraduate (PhD) courses and seminars:
Game Theory with Engineering Applications
Kalman Filters
Stochastic Estimation with Engineering Application
Advances on Telecommunications
Wireless Automation
Advanced Machine Learning
Elmusrati has also been supervising about 18 PhD students, where 8 have graduated. He has also supervised about 100 master theses as well as many B.Sc projects.
Research Interests
Machine Learning Algorithms and Applications
Biotechnology and Drug Discovery
Smart Systems (mainly smart energy)
5G Networks with Industrial Applications
Radio Resource Management in all Generations Mobile Communication Networks
Beamforming and Spatial Multiplexing
Stochastic Processes: Modeling, Estimation and Control
Game Theory and Multi-Objective Optimization
Wireless Sensor Network with Agricultural applications
Publications
Author and co-author for more than 130 papers and reports. Publication List: https://docs.google.com/document/d/1MBHtqycsa5aPd5dJDycBHKuitMcXICPwsiwagepGfTc/edit
Co-author of the textbook "Systems Engineering in Wireless Communications", publisher: J. Wiley, Nov. 2009, ISBN 978-0470021781.
Author of a new book still under preparation "Uncertainties: Modeling and Simulation"
ResearchGate: Mohammed Elmusrati
Email: mohammed.elmusrati@uwasa.fi