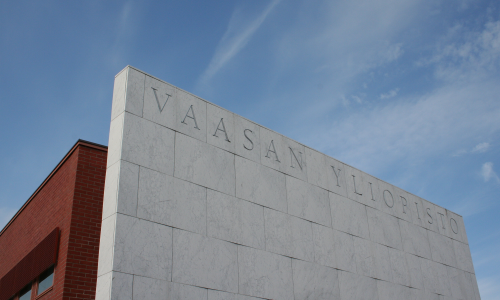 Phenomenon-based and impactful Research
We conduct impactful research of a high international standard in business studies, administrative sciences, technology and communications.
Our open, multidisciplinary and phenomenon-based research platforms work in broad collaboration with business and public sector. Through our research, we promote sustainable development and help solve the global challenges of the future.

07/13/2021 - Research
Researcher Jyri Paasonen from the University of Vaasa, and Henriikka Lindfors have studied penal practices of violations and crimes against occupational safety legislation. The research revealed, that the new law has…
07/08/2021 - Research
Doctor of Science (Economics and Business Administration), Jouni K. Juntunen has been appointed Associate Professor of Innovation Management (School of Technology and Innovations) at the University of Vaasa. He has…
06/10/2021 - Research
Professor Sami Vähämaa from the School of Accounting and Finance of the University of Vaasa has been elected to the Board of Directors of the Southern Finance Association. Vähämaa is the only director from non-U.S…
Get acquainted with our research
Research groups and platforms
The University of Vaasa has four schools for research and teaching: the School of Management, the School of Accounting and Finance, the School of Marketing and Communication, and the School of Technology and Innovations.

Our research groups conduct high-quality research and bring together expertise and resources from across the university. They participate actively in both national and international collaborative networks.

The three phenomenon-based research platforms open up our doors to the surrounding society: Vaasa Energy Business Innovation Centre (VEBIC), Digital Economy and the Innovation and Entrepreneurship InnoLab.


Scientific research helps to address the complex challenges facing our society. Research findings also give rise to new theoretical frameworks, new scientific thinking and even completely new fields of science.
University of Vaasa seeks motivated, talented doctoral students who are inspired to do research. The application time for the doctoral programmes is twice a year.
The next application round is 15.9.–15.10.2020. Read more about applying. Application forms can be found in Studyinfo-service.
Doctoral Programmes
Researcher or teacher, would you like to join our close-knit and inspiring community and work with international research and development projects?
Our teaching and research positions are divided into four career stages. Some positions are available as tenure-track positions which through an assessment procedure enable advancement to the position of a professor. Read more: Working at the university
Apply for our new positions.