Administrative Sciences – Activities
Current and future activities of the Administrative Sciences Research Group
Research Group meetings
If not otherwise communicated, the RG meets in the morning of the first Friday of each month. If you are interested to join or would like to have more information, please contact:
Selected Activities (second semester 2022) – Christoph Demmke, Co-Chair of Research Group Administrative Sciences
15 December 2022, Presentation and Workshop about "Ethics and Sport" for the Swiss Government (BASPO) and Swiss Olympic, Swizzerland

25 November 2022, Meeting of the German Section of the International Institute of Administrative Sciences (Board-Member), Berlin, Germany

17 November 2022, Presentation "HRM and State Effectiveness",  Representation of Bremen to the German Government, Panel Presentation "Perspektiven aus der Wissenschaft zur Handlungsfähigkeit des Staates", Germany
13 October 2022, Presentation about the Legitimacy of Civil Servants (Panel),French Ministères économiques et financiers, , Rencontres Internationales de la Gestion Publique, Paris, France
10 October 2022, Presentation  on the Effectiveness of Disclosure Policies, European Parliament, Directorate- General for Internal Policies of the Union/Directorate for Citizens' Rights and Constitutional  Affairs, Brussels, Belgium

04-07 October 2022, invited UN-IACA Expert Workshop on Measuring Integrity for Better Tracking Corruption, Vienna

29-09-2022, Presentation about the Effectiveness of ethics policies, Université de Lausanne, Institut de Hautes Etudes en Administration Publique (IDHEAP), Swizzerland
May – June/July 2022 Paper presentations:
Conference in Norway, University of Kristiansand ("Flexible and differentiated (EU-) Governance and civil service adaptation"), June 2022

Conference in Germany, German University of Administrative Sciences, "Civil service adaptation and reform in the context of European Governance, (de-) Europeanisation and national competition", June 2022
Other activities
Finnish Expert Group for Horizon Europe Cluster 2, Culture, Creativity and Inclusive Society 

(2022)

Interviews in Newspapers: Trouw, Het Financiele Dagblad and De Groene Amsterdammer (2022)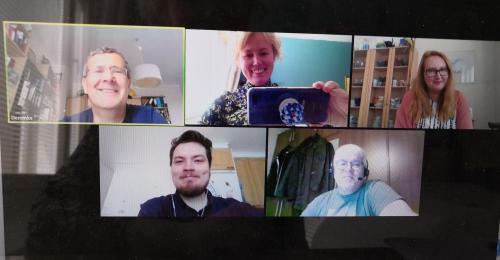 Upcoming research seminars 2022–2023
Preliminary Agenda 2022/2023
In 2022/2023, we will continue to invite (external) scholars, colleagues and PhD students to present their newest research findings, publications and PhD topics (these meetings will continue to take place every first Friday and approximately every second month).
Next to this, we will organize workshops/discussions every first Friday and every second month about so-called horizontal topics that should be of great interest to a wider interdisciplinary audience in the field of administrative sciences.
These workshops will discuss a number of What is? topics or Suppose if? topics, such as
What is a Good (international) University?

What is the Finnish Administrative system? What is Finnish (organizational) culture? Does it exist?

What is Digitalisation, AI and the impact on "privacy rights"?

What is the concept of Innovation in the field of Public Administrative Science?

What are Public Management, Regional Studies and Social and Health Management doing in Vaasa?

What is the link between Good and Critical Governance and Ethics?

What is the Rule of Law and how important is it today?

What is the definition of Administrative Sciences - elsewhere and in Vaasa?

What is Benchmarking of Public Administration and Quantification of Governance? What do we really know about Finland being on top of so many rankings?

What are Administrative typologies, e.g. the Nordic Model, Bureaucratic Models, Napoleonic Models? How to classify the Finnish Model?

What is the concept of Geopolitics? Is "Geography" returning? What future role for Finland?

What is Europeanisation of (Finnish) Administrations?

What is Climate Change but where is Biodiversity protection?

What is Governance/Public Administration Success?

What is the importance of energy companies for the future of the city of Vaasa/University?
Or, Suppose if…..
Government and public services would be marketized/totally privatized

There would be no public officials anymore, instead only private-sector employees

Countries would work without Administrations

Authoritarian and illiberal democracies prevail

Progress is about the creation of unintentional effects and the return of history
Note: We are open to other suggestions and proposals for discussion topics as long as the topics can be linked to the concept of "administrative sciences".
Other planned activities
Special sessions
"Putting the University Strategy into practice: What does Internationalisation of Administrative Sciences at the University of Vaasa mean? Challenges and Opportunities (date to be confirmed)

"What is Administrative Sciences"? (date to be confirmed)
Upcoming presentations and visits
Research group members are participating in the panel discussions, organising or presenting in sessions in Hallinnon ja kuntatutkimuksen tiedepäivät 2021, Tampere University, 18.-19.11.2021. See the programme (in Finnish): https://events.tuni.fi/hktp2021/ohjelma/
Research group in the media and in the social media
Research group in the media
Professor Christoph Demmke in the Dutch Newspapers Trouw, De Groene Amsterdamer, Investico, European Court of Auditors, Council of Europe, etc.:
Associate Professor Helka Kalliomäki in the Finnish Newspaper Ilkka Pohjalainen:
Assistant Professor Antti Mäenpää in The Vaasa Insider Magazine & Helsingin Sanomat:
Associate Professor Johanna Hautala in The Vaasa Science Carnival, Wasa Innovation Center, etc.
Research group in the social media