Understand the digital opportunity for your business and create a plan to make it work. This remote course takes you through the process of creating a strategy and implementing the tactics to bring it to life. 

Is your digital marketing lagging behind your competition? Are you struggling to keep up with changing technologies? Have you successfully integrated digital into your traditional marketing process? Are you meeting your customers' needs online?
Our Digital Marketing Module will help your business rise to the challenges of the new marketing landscape that continues to evolve with digital and technological advancement.
Against this evolving backdrop, there are more and more opportunities to reach your target audience in new and impactful ways, but how can your company exploit the digital opportunity? This new executive education module will give you the tools you need to improve your company's digital marketing. 
Digital Marketing Strategy and Digital Marketing Fundamentals courses have now been published. Social Media Marketing course will be published during summer 2021.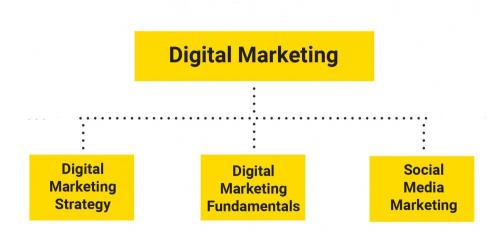 About the Module
The module has three topics, with each of them attracting micro-credentials that cover issues relating to strategic thinking and formulation, digital marketing fundamentals and social media content and consumer connectivity. 
Who Is This Module For?
These modules have been develop for working professionals who want to use digital marketing to move their business forward. 
Entrepreneurs who need to understand the opportunity that digital marketing offers. 
Business leaders and executives who are looking to scale up their digital marketing efforts.
Owner / managers who want to meet their customers' needs digitally.
Marketers and early career professionals who are looking to grow and develop their careers.
What Will I Learn?
Starting with Digital Marketing Strategy, you can learn the fundamentals of creating a strategy that will have an impact on your business. This module provides you with a framework, the skills and practical guidance to develop a strategy which will underpin all your digital marketing activity.
Digital marketing fundamentals builds on the strategy. Looking at key digital tactics, the module explores the basics of SEO, web design, UX, email marketing and digital ads, helping you win in a competitive market.
Social media marketing completes the digital modules. You will explore the psychology behind social media and getting to grips with the metrics that matter before investigating content creation and advertising.  
How Will The Module Be Taught?
The course is an online course and is completed independently and entirely on your own schedule in the digital Teachable learning environment. You will also receive a certificate for the completed course. After purchase, you have 4 months to complete the course.
Price and Payment Options 
Price of each module is 249 € (incl. VAT 24 %). If you buy all three, the bundle price is 690 € (incl. VAT 24 %). 
The price of the course includes:
High quality video materials
Current reading related to the course topics
A certificate of completion of the course
Access to a comment forum with other participants and lecturer
Four-month access to materials
Digital Marketing Strategy
Digital Marketing Strategy is divided into three different topics:
Company & Customer
Int: Competence & Content | Ext: Context & Competition
Capital, Objectives & Management
Overview
Creating a digital marketing strategy is an essential step in achieving your goals. But how do you create one? What are the steps involved? What information do you need to consider? This module provides you with a framework for creating a digital marketing strategy that focuses on your customers and consumers.
The module is taught by Andi Jarvis, a marketing consultant who developed this framework during his academic research in the UK and has used it commercially with over 100 companies across Europe. It explores the key questions you need to ask provides a step by step approach to creating a digital marketing strategy that will perform for your business.
Strategy Fundamentals – Company and Customer
Benefits:
Company – Understand what your company's value is, why your products (or services) stand out and what makes customers want to buy them. We look at how you are positioned and explore how that supports your marketing plans.
Customer – A deep understanding of your customers (or consumers) is essential to any marketing strategy. You will understand how to find who your idea customer is, what problems you solve for them and how you can communicate with them. All of this is backed up by digital analytics and research.
Internal and External Factors
Benefits:
External (Context & Competition) – Your business doesn't operate in a vacuum and understanding the competitive landscape helps to shape your proposition. The wider economic and political climate impacts all business, and this is factored in at this stage.
Internal (Competence & Content) – Every great digital marketing strategy is brought to life by the people in your organisation and you need to understand what skills gaps you have and the impact of them. You also need to find information and stories to tell potential customers that will let them connect with your company.
Capital, Objectives & Management
Benefits:
Capital – Investment is required to bring your strategy to life. This is measured against the activity the grows out of the first two stages.
Objectives – Setting objectives based on the key information that has surfaced throughout the process and ensuring they are relevant and achievable.
Management – Building a marketing operating system for your business that allows you to have visibility of what's working, what's not and adjust your course based on that information. Essential to making the digital marketing strategy a success.
Digital Marketing Fundamentals
Digital Marketing Fundamentals is divided into three different topics:
Web Design, UX and Analytics
SEO and Email Marketing
Paid Search and Display Advertising
Overview
This module will give you the theoretical understanding of how markets work in digital environments, while also equipping you with the skills you'll need to perform vital daily functions. By the end of the module, you will be able to walk into any company with an online presence and improve their digital marketing efforts.
Web Design, UX and Analytics
Benefits:
Web Design – Understand and apply multiple web design frameworks to improve website conversion rates.
Web Analytics – Establish the appropriate metrics and KPI's for any type of website. Understand the benefits and pitfalls of different ´ methods for digital analysis. Make appropriate recommendations to an ecommerce website based on the conversion funnel and identify the highest ROI digital marketing channels.
SEO and Email Marketing
Benefits:
Search Engine Optimization –Developing knowledge about how search engines work and make recommendations to a website on how it can improve its organic search rankings.
Email Marketing – Understand how to best leverage a database of current and potential customers via email.
Paid Search and Display Advertising
Benefits:
Search Engine Marketing – Understand the mechanics of paid search rankings. Design a search engine marketing campaign and appraise its effectiveness. Recommend changes that will improve the conversion rates of the campaign.
Online Advertising – Understand the different methods of advertising via online display. Develop an online display ad campaign and measure its return on ad spend (ROAS).
Social Media Marketing
Social Media Marketing is divided into three different topics:
Managing Social Media and Metrics
Connectivity and Developing Content
Using Paid and Earned Social Media
Overview
The overarching goal is to obtain a clear perspective on what's really going on in digital and networked-based social environments so that you can begin to appreciate its true value to consumers, to managers, and to other corporate stakeholders. The emphasis is on understanding online social interactions, examining the various social media channels, learning how to integrate new mediums into marketing strategies and track their effectiveness.
Managing Social Media and Metrics
Benefits:
Managing Social Media – Define social media and understand how it influences how business and marketing is done. Create a strategic plan for identifying opportunities for using social media.
Social Media Metrics – Describe measurable standards and types of social interactions occurring on different social media platforms. Collect various types of metrics to complete audit of social media activity.
Connectivity and Developing Content
Benefits:
Connectivity – Understand key principles of "connected consumers" from psychological and sociological perspectives, and how these principles can be leveraged when developing social media strategies.
Developing Content – Understand how to use various digital mediums to disseminate relevant branded content. Learn to interact with consumers in ways that increase social impact, engagement, and value.
Using Paid and Earned Social Media
Benefits:
Using Paid Social Media – Describe potential advantages and disadvantages of advertising on social media platforms. Explain how marketers can increase the effectiveness of social media advertising by integrating it with other communication channels
Online Advertising – Understand the concept of seeding, relative advantages of different methods for choosing seeds, and explain how to incentivize seeds. Describe what being viral means, explain the concept of spillovers from viral marketing campaigns, and understand the importance of accounting for spillovers in viral marketing campaigns
Lecturers
The programme leads will be Dr Jack Tillotson and Andi Jarvis MSc. Jack is a leading marketing academic who has taught in the USA, England and Finland with a focus on dynamic relations between consumer actions, the marketplace and shared social meanings. Andi is a marketing consultant and entrepreneur based in Belfast who works with clients across Europe to implement effective marketing strategies. 
The module is a combination of leading academic thinking mixed with years of practical application and you will leave the course with a fully formed understanding of the digital landscape.